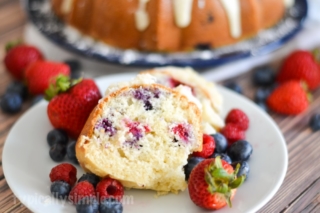 Berry Bundt Cake
Ingredients
2 cups flour 
1 1/4 cup sugar
2 tsp baking powder
1/2 tsp salt
8 oz sour cream
2 large eggs
1/2 cup olive oil
1 tsp vanilla
1/4 cup milk
1 1/3 cup  fresh blueberries & raspberries (rolled in 1 tbsp corn starch)
Instructions
Preheat oven to 350F. Lightly grease a bundt pan.
In a large mixing bowl, combine all of the dry ingredients and set aside.
Roll the blueberries & raspberries in the corn starch until coated.
In another bowl, beat the eggs with the sour cream until combined.
Add oil, vanilla & milk. Mix well.
Mix the wet ingredients with the dry.  Fold in berries.
Transfer batter to bundt pan and bake for 40-45 minutes. Or until tester comes out clean.
Cool in pan for about 20 minutes then transfer to wire baking rack to finish cooling. Slice & serve!
Courses dessert
Recipe by Typically Simple at https://typicallysimple.com/berry-bundt-cake/