You might have already seen on social media that the blog has gotten a new name! After almost two years of blogging on Sew Crafty Cat, I have decided it's time to move on.
This name change has been a long time coming…I have been thinking about it for months. But thinking of a new blog name is hard. Really hard. Honestly, it might have been more difficult to think of a new blog name than to decide on baby names. Because in real life, people can be named the same names. But in blog life, you have to think of something unique in order to buy the domain.
I knew I wanted the word "simple" in the blog name…and after brainstorming a few different combinations, I would find out that the domain was already taken. Then one day "Typically Simple" came to me – lo and behold the domain was available AND it was available on all social media accounts. The blogging gods were smiling down on me!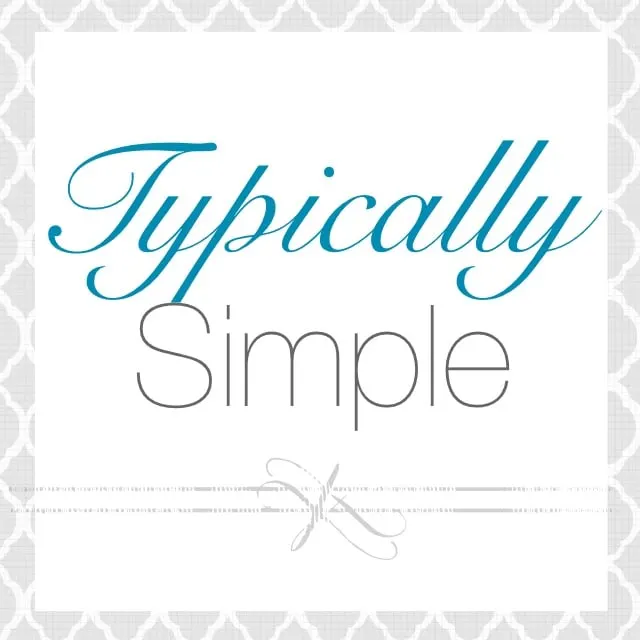 With all of the gazillion blogs being created everyday, I was really worried I'd wake up to find the domain taken. Because my personal WordPress guy apparently had a lot on his agenda (I really can't complain too much because he cooks dinner and does the laundry for me), it took about a week before he had time to make the big blog name switch for me. Luckily the domain was still available and I got to work switching out all of my social media accounts which was much easier than I thought it would be.
So you might be wondering, why the name change?
Sew Crafty Cat the blog was created as a spin off from my Etsy shop. It is the name of my Etsy shop, so at the time it made sense to start a blog with the same name. And these past 6 months I have really committed myself to blogging. It's my me-time.
I love to craft and take photos and write. However it can be quite time-consuming. And with an 11 month old running around, I don't really craft during the day anymore. Which leaves weekends, and our summer weekend are jam-packed with vacations, trips to the zoo, BBQs, and everything else that summer brings.
I felt it was time to start moving the blog into some other directions. I want to write about other topics, and I have in the past…I share recipes and posts about our family, but the overall theme of the blog has been crafts.
And it started to get to the point where blogging was not as fun for me anymore. It became too much of a chore to get posts ready. And that is not what I want blogging to feel like to me. I needed to simplify the way I blog.
Because life is about the simple things.
Typically Simple will still have crafts, recipes, DIY projects…but I also have goals of writing about other topics, too.
So welcome to the newest chapter in my blogging adventure!