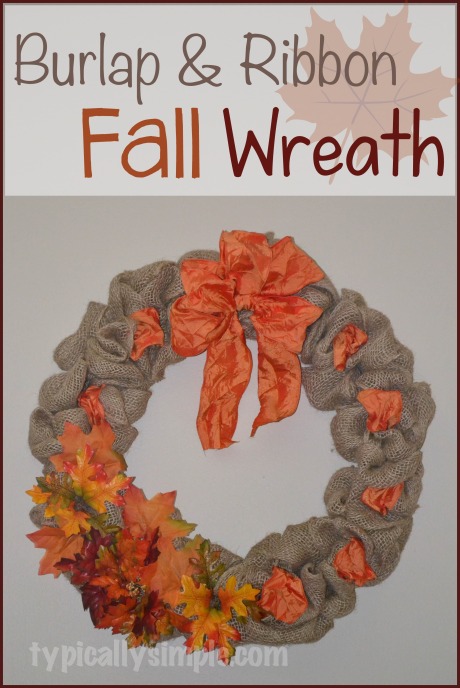 Last fall, I made two of these wreaths (funny thing is, neither ended up in my own house!) and I realized that I never shared them on the blog! So today's post is more of crafting inspiration than a tutorial or how-to because I really do love how this wreath turned out!
I used the burlap bubble method on a wire wreath form to make this fun fall wreath. Head over to good old Pinterest and search that technical crafting term and you will find a ton of tutorials! I have to admit, it took me a few times (and a few different tutorials) to get the process down, but once I did, it was easy peasy.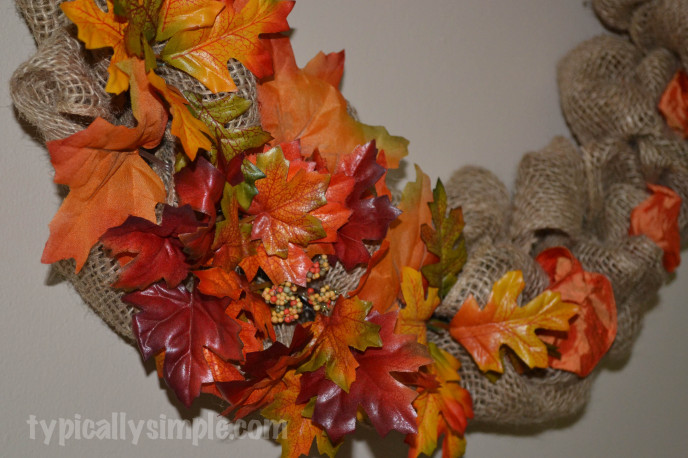 I picked up the leaves while I was at the dollar store; they came in a really long vine, so with a pair of wire cutters, I snipped them all off to make them easier to work with. Then with my ever trusty hot glue gun, I started added the leaves to the burlap.
The wreath seemed to be missing something with just the burlap and leaves. I found a roll of some fun, iridescent orange wire ribbon that I thought would be perfect for making a bow! Now don't ask me how I made that bow – when I make bows, they turn out the way they do purely by luck! And usually with a lot of hot glue…
Once I added the bow, I still felt like I could do something else to tie it all together. So I added some little puffs of the ribbon throughout the burlap. It gave it just the right amount of color throughout the tan burlap to make this fall wreath pop.