This post is sponsored by Ninja. All opinions are my own.
Coffee is an essential in our house. I couldn't imagine getting through my day without a cup or two, or more depending on the day. And since my husband also works from home and drinks more coffee than I do, we usually make one or two pots of coffee every day.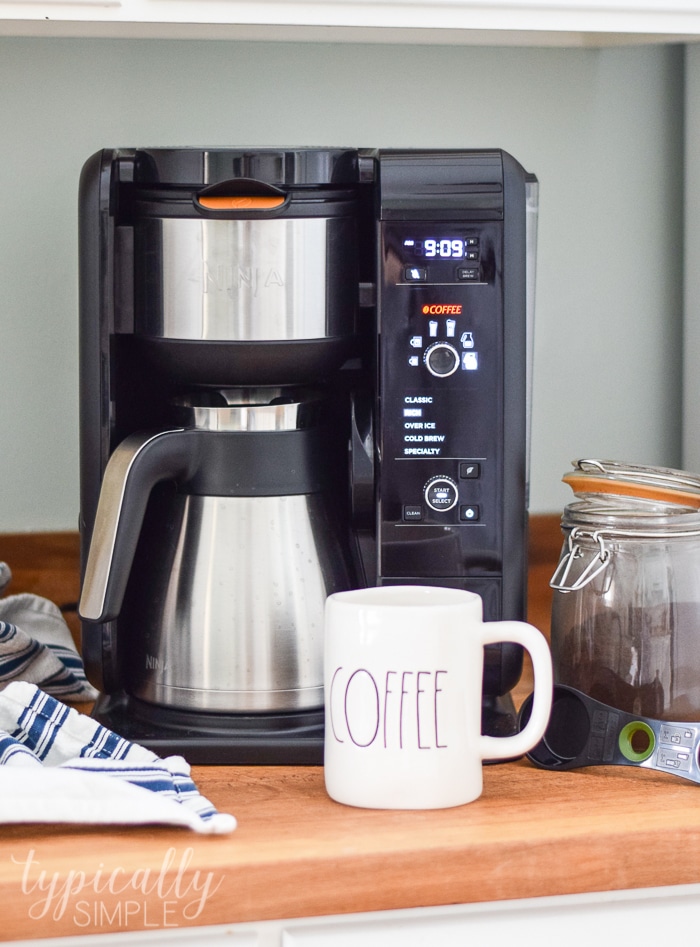 The thing is, we could not be more different with our taste in coffee. He's all about the dark, bold roasts that when I take one sip, I can feel my nerve endings buzzing. I'm more about the lighter roasts plus I have to have cream in my coffee.
So when the Ninja Hot and Cold Brewed System™ arrived on our doorstep, we were both excited to have the options to make our favorite types of coffee all in one machine!
5 Reasons to Love the Ninja Hot and Cold Brewed System™
COFFEE OR TEA? – Brew both hot cups of coffee and tea as well as over-ice beverages. Everyone in the house can have their favorite coffee or tea using just one machine!
CHOOSE YOUR SIZE – From a single cup to a full carafe, you can brew your favorite ground coffee or tea without pods.
OVER ICE -I love iced coffee in the summer, but it always ends up weak and watered down when I make it. This system is designed to brew hot over ice at double strength for a iced drink that's never watered down.
COLD BREWED – Brewing over ice at an accelerated lower temperature delivers a smooth, naturally sweet cold brew flavor in approximately 10-15 minute. No need to drive to your local coffee shop for a cold brewed when you can make it right in your kitchen!
THERMAL CARAFE – Now it might sound silly to get excited over a coffee carafe, but I absolutely love this feature of the system. Not only is it dishwasher safe, but the outside does not get hot, even though the coffee stays hot inside. And if you are anything like me that needs a warm up a few hours later because #momlife, I was pleasantly surprised to find the coffee still warm in the carafe.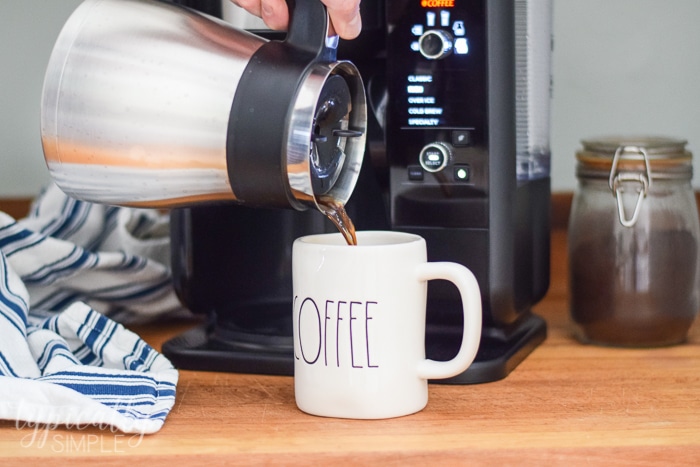 With the ability to make hot, flavorful cups of coffee and tea, frothy specialty brews, and over-ice drinks like cold brew and iced coffee and tea right at home, I no longer have to trek through the snow and cold this winter to get my favorite cup of coffee from the local coffee shop. I can be a Ninja in the Kitchen (in my pajamas) thanks to the Ninja Hot and Cold Brewed System™!