Things have been really quiet around here these past few months. My husband and I are expecting our first baby in July!!  These past few months have been quite a blur, most days were spent going to bed early and napping on the couch!  But now I am feeling a hundred times better and ready to start sewing and crafting again!! I'm looking forward to incorporating these super cute fabrics into some projects for the baby, including lots of burp cloths!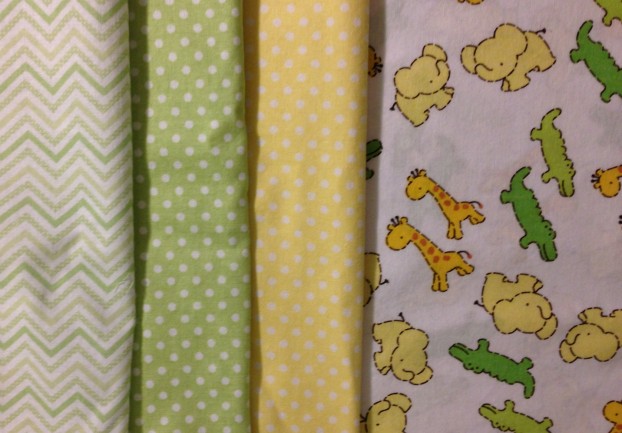 Back in November, I had a booth at my first craft show…and it was slow…very slow. Veteran crafters assured me that craft shows were not normally like this and not to give up!  So I have lots of inventory that I need to either get listed on Etsy or find another, affordable show to try my luck at again.
I've been having some fun with my Cameo lately! I got lots of new supplies for my birthday and started working on some projects with vinyl. Since Valentine's Day snuck up on me before I could make anything crafty, I have been thinking of some cute things to make for St. Patrick's Day. Being Irish, this is definitely in my top 3 holidays for which I love to decorate my house.
I hope to be updating more often now, especially with the nursery projects I have in mind! With only two bedrooms, we moved our office down to the basement and will be now using the extra bedroom as a nursery. It is currently in shambles, as I have been cleaning, donating, tossing all the junk that has collected over the past four years. My mom made a good point as she was helping me – if I wasn't crafty, I probably wouldn't have so much crap! Pretty soon the room will be ready to paint – we are going with a turquoise color and adding green accents for a boy or pink accents for a girl…which we are not going to find out until July!! I'm hoping the "nesting phase" I hear so much about will kick in sooner than later so I can be more motivated to get this house organized. =)