Heat Transfer Vinyl (HTV) is something I have seen, yet was always too afraid to try. The Silhouette group page I read had many discussions about it and how they have these big fancy heat presses. I was under the assumption that without a heat press, I could not use HTV. Well was I ever wrong! A basic home iron is can be just as effective. Granted, I will not be able to make huge designs with lots of colors…but I can make super cute onesies and t-shirts for my little guy!
Because I wasn't sure how it would go, or my shirts would turn out, I just ordered a few basic colors to start. When my HTV arrived, I knew exactly what I wanted to make! As you might know, my husband is a marathon runner; I was currently pregnant and thought it would be cute to make a shirt for the baby to wear at my husband's race. We didn't know if we were having a boy or girl, so I tried to keep it somewhat neutral by using green.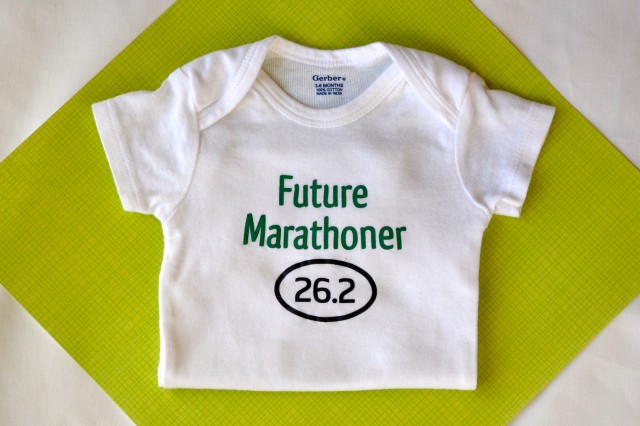 My mom and I took the Doots to his first race when he was about 6 weeks old. My husband was running a half and it was a gorgeous day…Quinn sat on my lap the whole time and loved looking around and hearing all the noises. He got pretty crabby at the end…but what can you expect from a newborn? And by the time we got to see Daddy at the finish, Quinn had fallen asleep. =)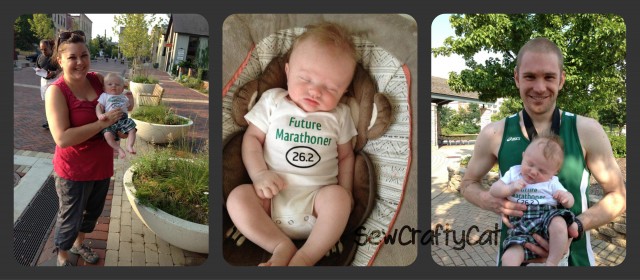 Once I saw how easy HTV was to weed and apply…I knew I had to make some more shirts! So I ordered a ton of colors and have been adding to the Quinn's collection of onesies! Especially once I found out how much a sports team onesie costs – $20 for something my baby is going to barf on and outgrow in a few months…I will just make my own! Did you know that you can google the fonts used by college and pro teams? And if you can't find the exact font to download, there are suggestions as to what would be closest. So for the Notre Dame football home opener, I made this one!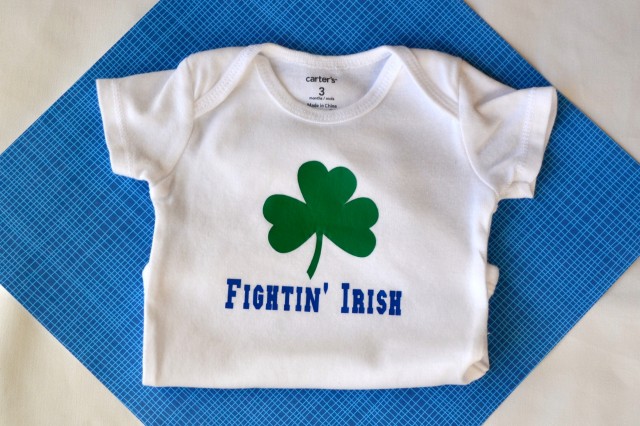 And here are a few of the others I have made since the Doots was born!
And finally, perfect to wear this football season!