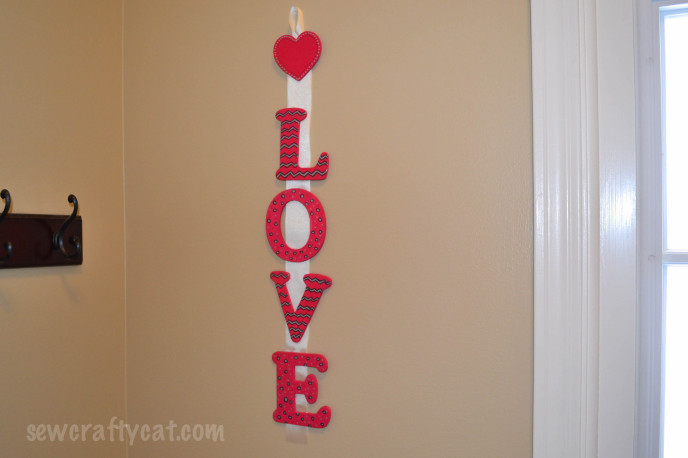 Have you ever worked on a craft project and nothing seems to be going your way? That was definitely going on with this project last night. And the funny thing is, after trying a bunch of different things, it ended up the way I originally intended it.
I had the letters to spell out love for a little photo shoot I wanted to do with Quinn. Well, that hasn't happened yet and V-Day is only two weeks away, so I needed to do something with these letters. In my mind I imagined some sort of hanging sign, maybe using some ribbon to connect the letters, possibly paint each letter a different Valentine's Day color. Then I got in my head, wouldn't it look pretty cool attached to a canvas. And that's when things headed down the drain.
First, the color of my canvas reminded me of Pepto-Bismol.
Then I thought it would be cute to add some zig zags to the canvas and I cut out heat transfer vinyl instead of regular vinyl. So Quinn might be getting a shirt with some zig zags in the near future.
So I tried using contact paper to make a stencil for the zig zags. Painted it, decided it looked odd. So I painted over it.
Finally, time to hot glue the letters on. Annnd they fell right off. My hot glue gun hasn't been working the greatest lately. That might be due to the fact I accidentally left it plugged in for a day or two – thank goodness for my neighbor who came over and unplugged because we weren't going to be home for awhile.
So in the end, the project ended up the way I envisioned it in the first place. I ended up hot gluing the letters to a length of ribbon. It looked cute as is, but the letters seemed a little boring to me. I found a silver and black sharpie and added some zig zags and polka dots to spice it up a bit. If I had stuck to the game plan, this would be a very quick craft to make!
What crafting mishaps have you had?