Learn how to cut fabric with your Silhouette Cameo and make this cute shamrock burlap bunting for St. Patrick's Day!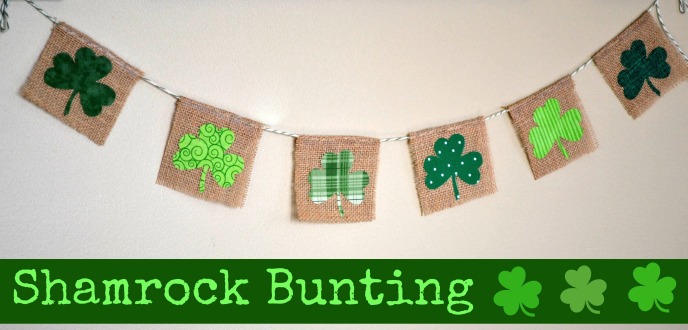 You might remember my Valentine's Day bunting that I made with some fabric scraps and burlap. Well, I just knew I had to make a St. Patrick's Day one, too!
With St. Patrick's Day just around the corner, I wanted to put up a few decorations around the house in hopes that the luck of the Irish rubs off on us…maybe in the form of a winning lottery ticket!
As I was looking around at my decorations, I needed just a few more little things, so I threw together this burlap shamrock bunting!
Supplies
Silhouette Cameo
Cutting Mat & Blade
Fabric
Heat Transfer Fabric Interfacing
Spatula Tool
Iron
Burlap
Twine
Hot glue gun
How to Cut Fabric With your Silhouette Cameo
To get started, cut your burlap into rectangles. I made mine about 4 ½ by 4 inches or so. If you make them slightly larger, you can always trim them down later.
Cut your fabric and fabric interfacing into 3 ½ inch squares. The key to cutting fabric with your Silhouette is to always, always use some type of stabilizer on the back of the fabric you are cutting.
Using your iron – apply the interfacing, per the directions on the package, to the back (wrong side) of your fabric.
Using the Silhouette Studio program, add the shamrock and resize it about 3 x 3 inches. The scale tool works great for resizing shapes to the size you need them to be.
After you peel the paper backing off of the fabric, stick the back side (it will look shinier) down on your cutting mat. Move the shamrock shape on your screen cutting mat to align with where the fabric is placed on your mat. Using the cutting preset for Fabric Cotton Print, cut out your fabric shamrocks.
Depending on how sticky your mat is, you might need to use your spatula tool to help pull the fabric shamrock off the mat. Using your iron again, place the shamrock with the wrong side down on the burlap. Press for a few seconds and let it cool before checking if it has adhere correctly. If the edges seem to peel up a little, press with the iron again. Repeat with each fabric shamrock.
Now that you have all of your pieces ready, it's time to put the bunting together! I cut about 40 inches of twine in which to attach each of my pieces. The easiest way to attach them is with hot glue. Placing the burlap face down, put your twine towards the top, run some hot glue across, and fold a little bit of the burlap over to enclose the twine in between.
After attaching all of the pieces to the twine, your burlap bunting is ready to be hung in hopes of bringing a wee bit o' luck into your home!