I was contacted on Etsy about making a custom order of reusable snack bags to use as a favor bag for a child's birthday party. I think this is such a great idea! Especially since they can be customized for the party' theme!
The birthday party is an ocean theme and I searched high and low for fish fabric. All I could find was shark print, which was cute, but not what I was picturing in my mind. One day, while shopping in my favorite fabric store with my mom, she saw some fish printed fabric that must have been just added recently. I bought enough to make the sandwich bags for the party and then made up one bag from each print for the custom order.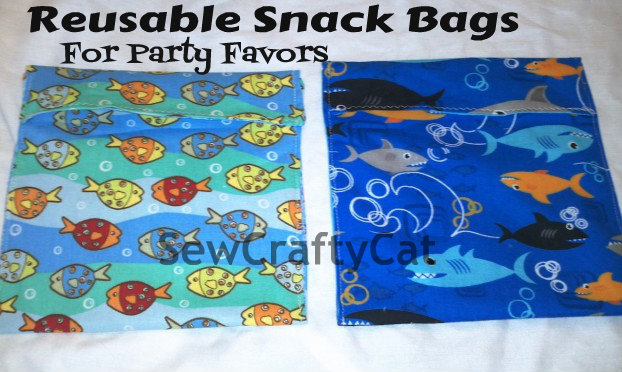 Both bags turned out super cute! The customer decided on the fish pattern, which I think is perfect for an ocean themed party! I love the sharks, too, but I think they would work better for other themes – maybe a pirate party?
Here are the finished bags! The inside fabric has a circle pattern that reminds me of bubbles!