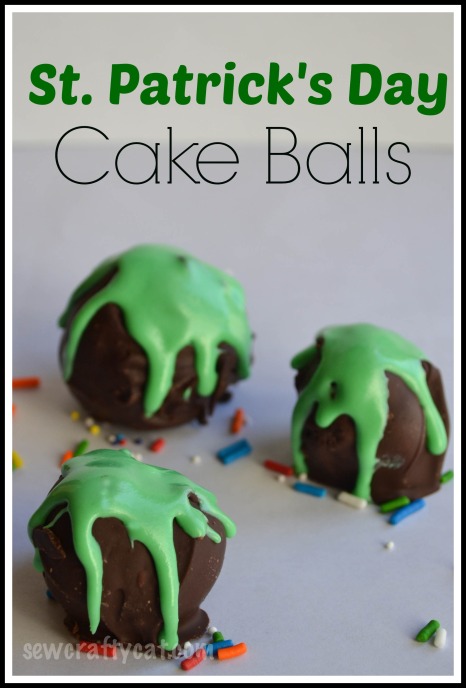 Happy St. Patrick's Day!
With St. Paddy's Day comes my favorite meal of the year! Corned beef, carrots, potatoes, and Irish soda bread…there is also cabbage, but I pass on that. Every year, for as long as I can remember, my mom cooks our St. Patrick's Day feast – and this year was no different!
We celebrated a day early this year because Ryan, Quinn, and I are usually over at my parents'  house on Sundays anyways. I told my mom I would bring some dessert, but at the time didn't know what I was making yet.
Of course I headed over to Pinterest for some inspiration and in the end decided to make cake balls! I have made these a few times before and they are delicious!
And after I started making them, I remembered why I hadn't made them in awhile – I always make a HUGE mess with the melted chocolate. But even though they might look like Cake Oblongs, they were still delicious!
You only need a few things to make these – cake mix, frosting, and chocolate
Directions
Make and bake the cake according to the box
Let it cool for a bit then crumble into a large bowl
Mix in the frosting
Chill in the fridge for a few hours
Roll the mixture into balls and place on wax paper
Pop them into the freezer if they start getting crumbly
Melt your chocolate
Dip the cake balls into the chocolate to cover
Place on wax paper to harden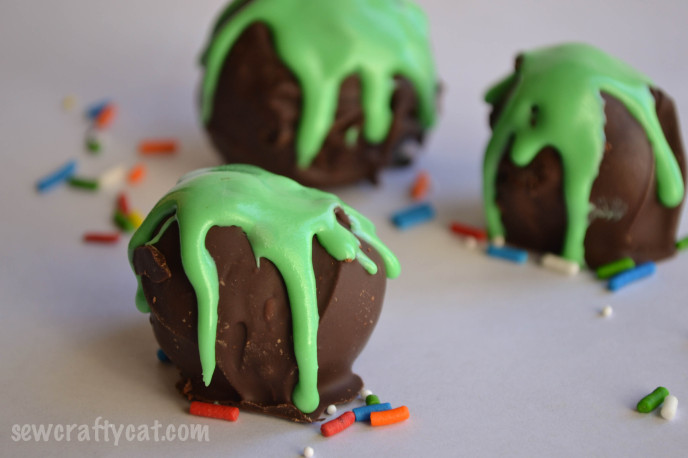 To add the little touch of green for St. Patrick's Day, I put a scoop of frosting into a microwave safe bowl, warmed it up for about 20 seconds, added a drop of food coloring & mixed it. Then drizzled it over the cake balls.
And if you have any tips on how to make these with less mess, please fill me in!