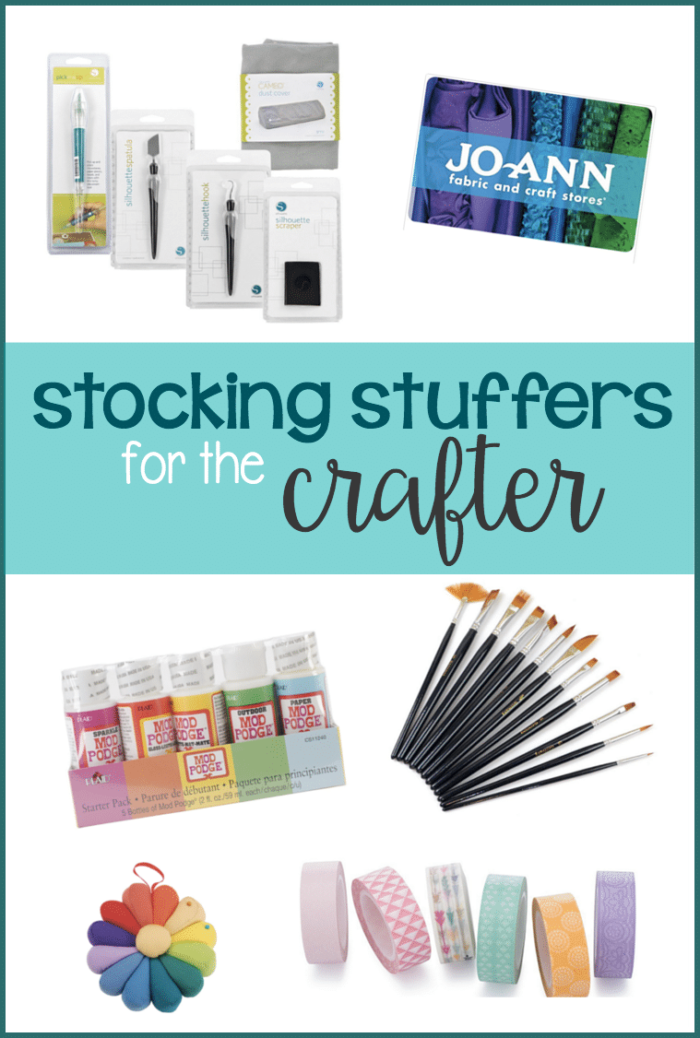 Even though I'm so not ready, it's time to start thinking about holiday shopping! Christmas is just around the corner and my mom has started asking for our lists. The past few months, I've thought to myself so many times…ooh, that would make a good Christmas gift, I'll put it on my list. And now that the time is here, I have no idea what to put on my list!
I think stocking gifts are fun to shop for…just the little things that can pull the other gifts together. Last Christmas, my parents gave me a new sewing machine, so my mom put some sewing items in my stocking – bobbins, thread, needles. All the little things I needed to get started sewing right away with my new machine.
We are a participant in the Amazon Services LLC Associates Program, an affiliate advertising program designed to provide a means for us to earn fees by linking to Amazon.com and affiliated sites.
So I thought I'd put together a little stocking stuffer gift guide for the crafters in your life.
Stocking Stuffers for the Crafter

There are so many different colors & patterns of Washi Tape and lots of fun crafts to make with them. I highly recommend this Washi Tape Crafts book, too!
Just like washi tape, you can never have too many Hot Glue Sticks! The perfect size for tucking into a stocking…just make sure to buy the right size for your crafter's glue gun!
If your crafter does lots of paint projects, then pick up this set of Paint Brushes.

I love keeping a tape measure in my purse or bag in case I come across a fun piece at the store and need to know the dimensions.  This cute little Tape Measure is perfect for throwing in a purse or even for sitting out on the craft table.
Most crafters (and teachers) will agree – you can never have too many fun colored pens. And these Sharpie Pens do just the trick! I use them in my planner and they are great!
For that hard to shop for crafter, a gift card never fails. Grab a Jo-Ann Fabric Gift Card so they can go on a little shopping spree or pick up some new sewing accessories.

For the crafty sewing, find a cute and colorful pin cushion to put in their stocking or stick with a classic – the Tomato Pin Cushion.
I have multiple Seam Rippers – I keep one in my sewing machine drawer and one in my sewing basket. And it's inevitable that I won't find either when I need it!
One of my favorite crafting supplies out there. This Mod Podge Starter Pack lets your crafter try out different types of Mod Podge without needing to buy a huge bottle.

And because no craft room is complete without a Silhouette or Cricut, give your crafter a Silhouette Cameo Tools or Cricut Tool Set to use with their machine.
Happy shopping!