This Rustic Rag Banner is a simple and inexpensive decoration that is the perfect addition to a rustic bridal shower, baby shower, or baby/child's room.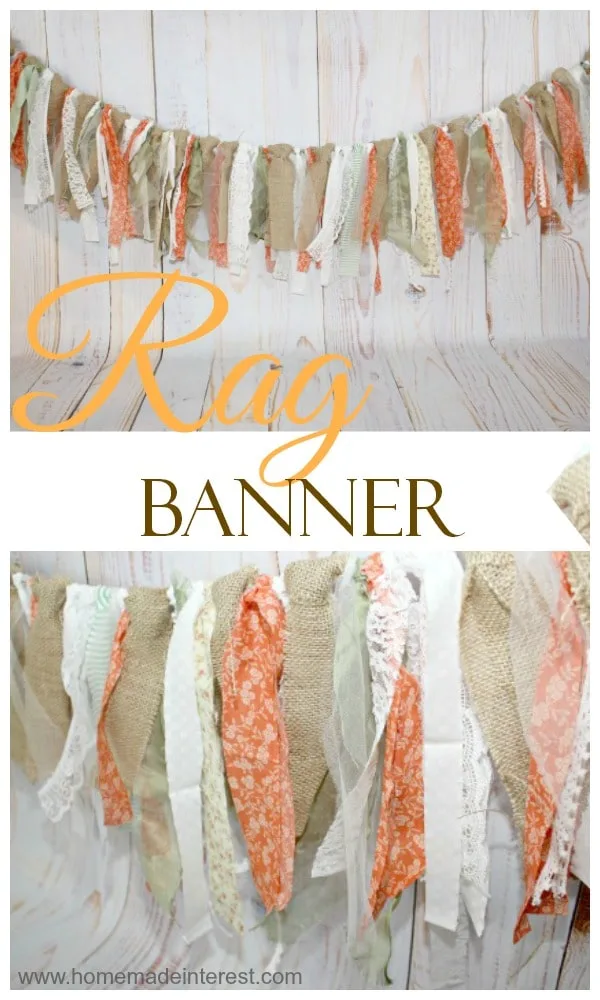 Hi all, it's been another month and we're here again from Home. Made. Interest. to share with you one of our latest projects. Hope you like it!
Melinda and I have had rustic decor on the brain lately. A friend of ours is hosting a rustic bridal shower for her soon-to-be-daughter-in-law and she has enlisted us to help her with some of the decorations and food. One of our favorite things that we have made so far is a rustic rag banner that will hang on her mantle.
It was super simple to make and we love how it turned out. All you need is:
Fabric cut into 1 inch wide strips (the length will vary depending on how long you want it to hang. You will be folding the fabric in half so if you want it to hang 9″ you will need an 18″ long strip.)
Twine
See, I told you it is simple!
To create your rag banner you just need to go shopping for a few different fabrics (at least 5). You can estimate that each strip will take up a little less than an inch. So, if you are making a 60″ banner you will want enough fabric to make 80-90 1″ wide strips.
Once you have your fabric, you'll tie your twine to two chairs and place them away from each other to stretch the twine out. Then start tying your fabric strips on, we have some pictures and an explanation on exactly how to tie the fabric here.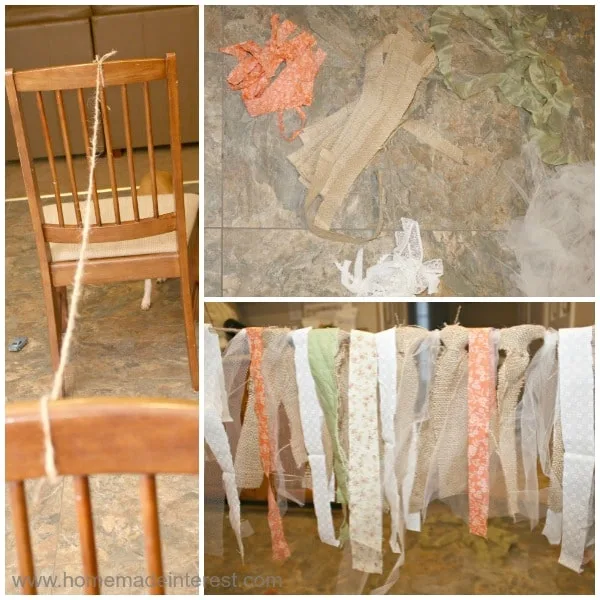 We like to start with our main fabric, in this case it was burlap, and space that out over the length of the twine. Then we just go back and fill in all of the gaps with various fabrics. You can see in the picture above we just drape the different fabrics all along the twine until it looks the way we want, then we go back and actually tie everything on.
As you tie the fabric remember to keep pushing the pieces together so you create a nice, full, banner.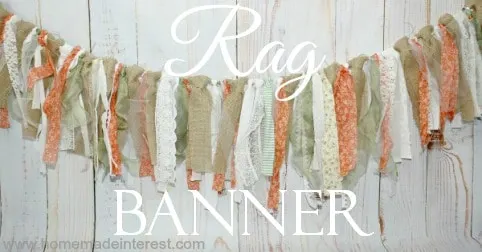 In no time you'll have a gorgeous rag banner that everyone will ooh and ahhh over! Every time we make one I'm so impressed with how pretty it is when it is all done.
If you like this project make sure to stop by Home. Made. Interest. and see some of the other things we have been working on!