This shop has been compensated by Collective Bias, Inc. and its advertiser. All opinions are mine alone.
These super cute egg carton chicks are the perfect kids' craft for spring. Grab some egg cartons, paint, and a few other craft supplies to make these spring chicks! A fun kids' craft project to make for Easter or as a rainy day activity!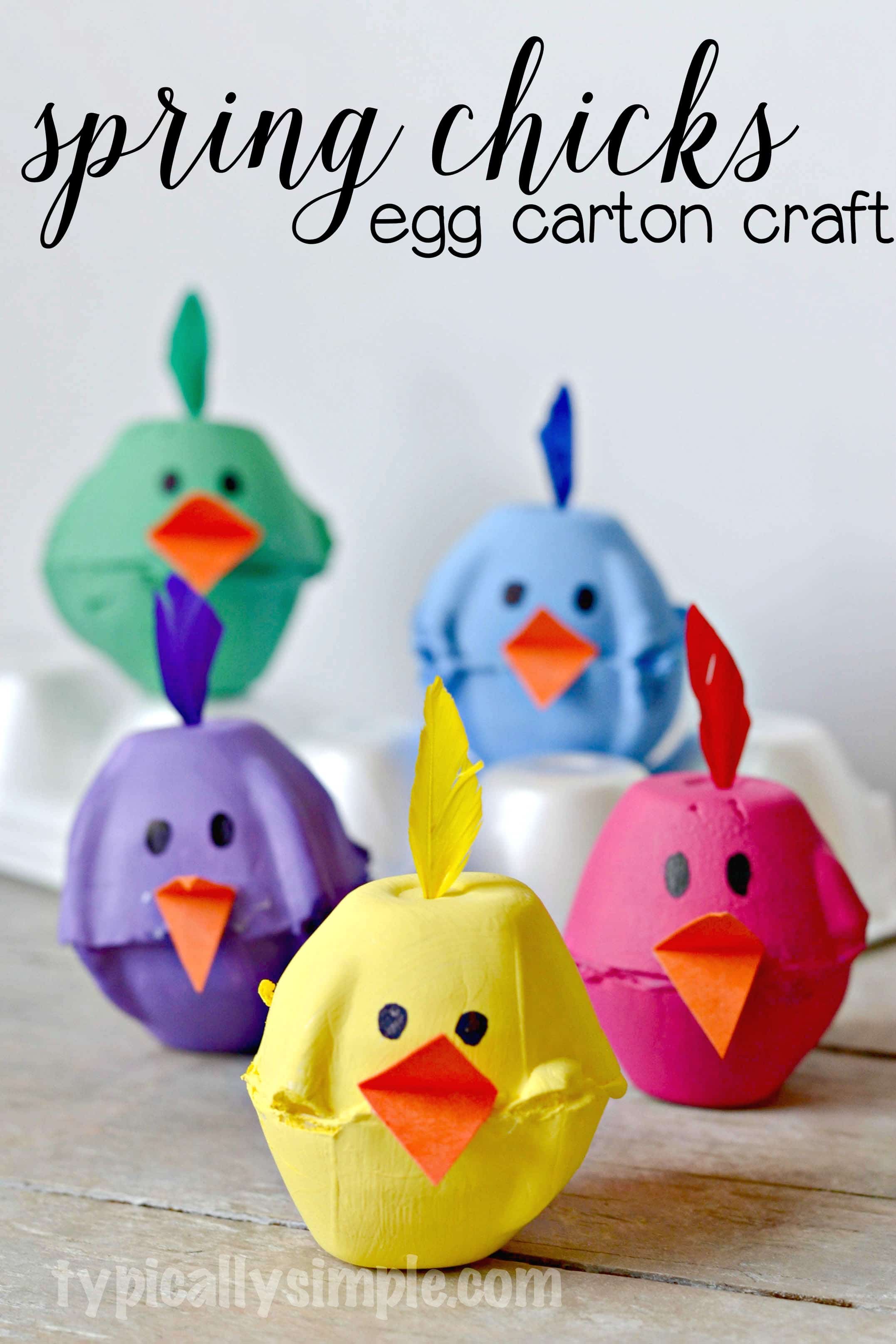 In elementary school, we always celebrated Earth Day by creating a project out of "garbage" and bringing it in to share with our classmates.
At the time, recycling was just starting to gain momentum. I remember having to sort the paper, plastic, and cans into different bins and looking for those certain numbers that told us whether they could be recycled or not.
All the reminiscing about Earth Day in elementary school got me thinking about some fun kids' crafts that could be made with egg cartons or milk jugs.
And these little egg carton chicks are perfect for Easter, spring, or just because! The kids will love making them and it's a fun way to reuse something old to make something new.
How to Make Egg Carton Chicks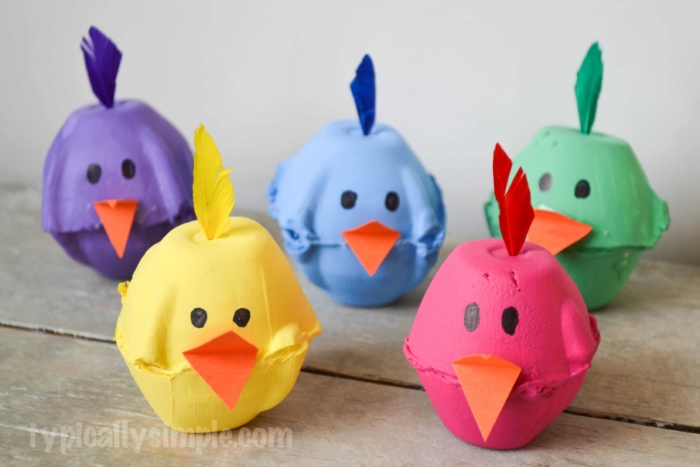 Supplies For Egg Carton Chicks Craft

egg cartons
acrylic paint & brush
glue, scissors, marker
construction paper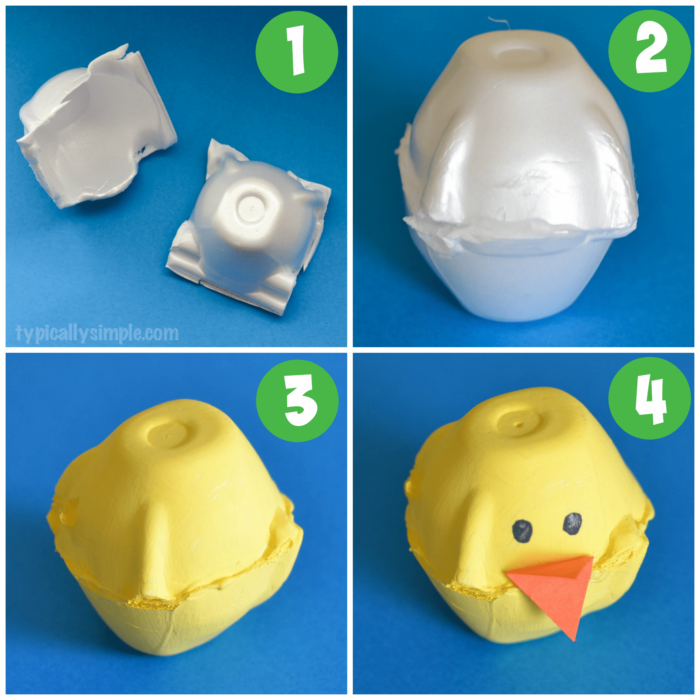 Directions For Egg Carton Chicks
1. Cut apart two egg holders from the carton and trim off the excess on the edges.
2. Glue the two pieces together.
3. Paint and allow to dry.
4. Add a beak and some eyes.
And that's it! With such few supplies needed, this is a great last minute craft for a rainy day. I had everything I needed in my craft supply stash.
I did find that using hot glue worked the best for gluing the two egg carton pieces together, so if you decide to go that route, the little ones would need a little help with this project. Otherwise, white glue works fine, it just needs a little bit of extra holding time.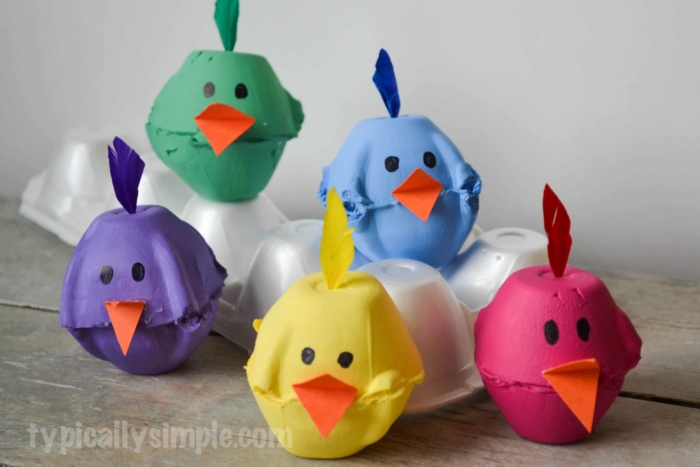 And while we are talking about recycling, reusing, and turning something old into something new, have you heard of the EcoAdvanced batteries from Energizer?
Since moving into our new house just last week, I'm finding that a lot of the little dude's toys that were in storage now have dead batteries. And since the packs of batteries are probably in the same box as my shower curtains I haven't found yet, I decided a trip to the store was much needed for both batteries and a new shower curtain.
While perusing the battery center near the check-outs for AA batteries, I found EcoAdvanced batteries which are the first batteries on the market to use recycled materials. These are a new product and available in both AA and AAA.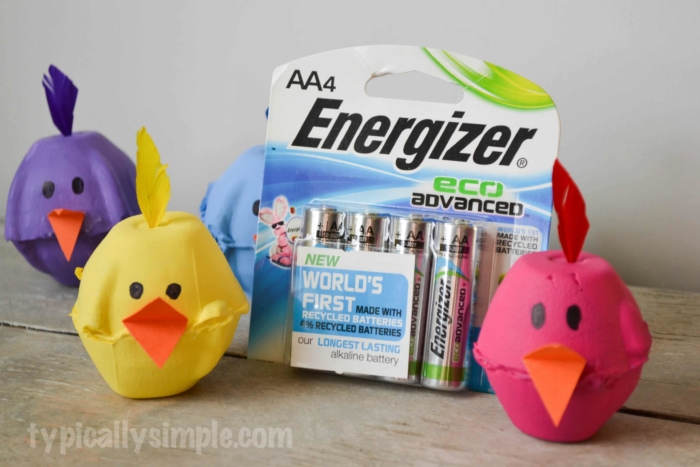 And with how many batteries we go through these days (even though I wouldn't mind if a few of these toys never made a noise again) it's good to know these batteries are Energizer's longest lasting alkaline ever. So now I can have the ABC singing dinosaur's songs stuck in my head forever.
There are lots of ways to reduce, reuse, recycle every day from craft projects to making something new again with a coat of paint. I also love that so many companies are getting on board with using recycled materials to make their products.
What is your favorite way to make something old into something new?

Be sure to check out these other cute spring-inspired projects!