Packed full of baked apples and cinnamon flavor, these apple pie bites are a yummy fall treat!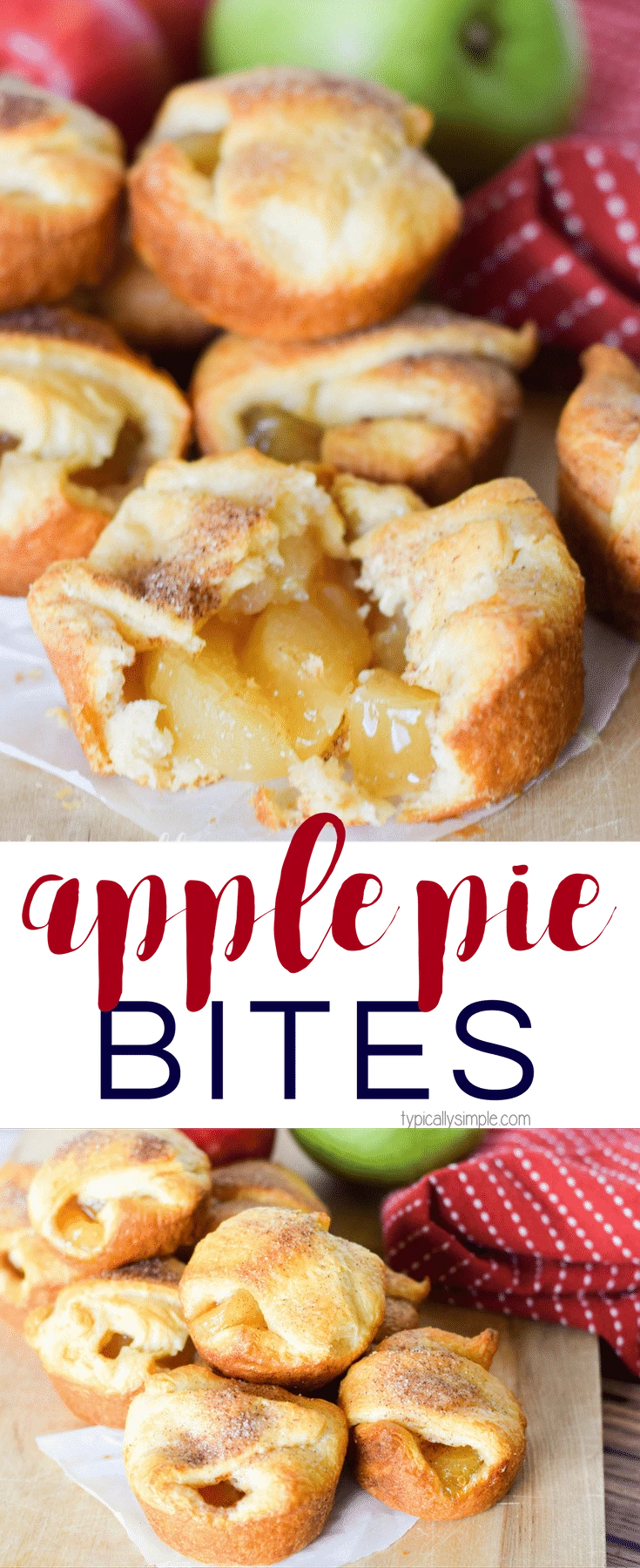 Since fall is just around the corner, it's time for pumpkin flavored everything.Now I do love a good pumpkin dessert as much as the next person, however I'm much more excited about all of the apple treats that fall brings. Especially when it comes in dessert-form like caramel apple cookies!
One of my absolute favorite fall desserts is apple crisp with a scoop of vanilla ice cream; however the peeling and slicing of all of the apples can take a bit of time. Plus, my little guy likes to help me bake yummy treats for all seasons, so I'm always trying to think of easy recipes that we can make together.
Recipes that have just a few ingredients always get a thumbs up in my book because trying to work through a twenty step recipe with a four-year-old just isn't going to end well.
Enter the apple pie bites recipe…with just two basic ingredients, this dessert recipe comes together in no time at all. Plus it's a fun one to make with the kids! In under 20 minutes, these apple pie bites are baked and ready to eat.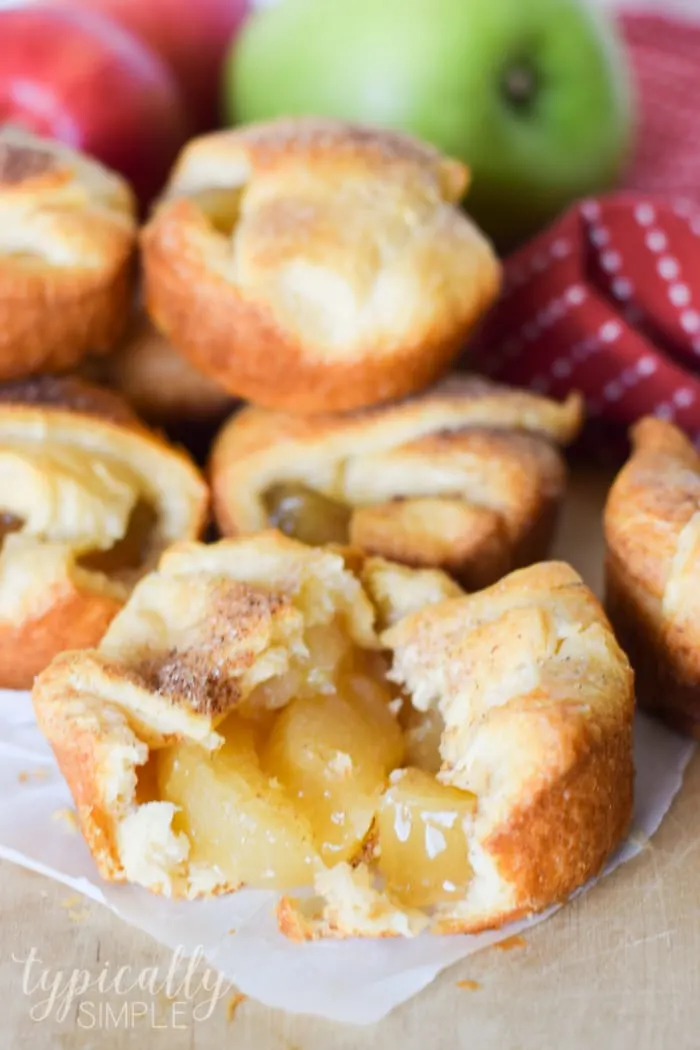 how to make apple pie bites
You will need two cans of crescent rolls and one can of apple pie filling for this recipe, plus a few teaspoons of sugar and cinnamon.
Start by unrolling and pulling apart the crescent rolls. Coat a muffin tin with non-stick baking spray and place one crescent roll triangle in each tin. Add a heaping spoonful of apple pie filling on top of the dough.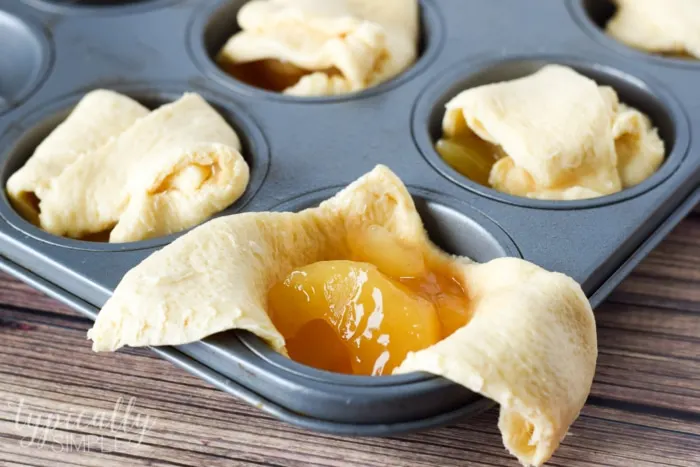 Mix together a teaspoon of cinnamon with two teaspoons of sugar. Sprinkle over the apple pie filling, then pull up the sides of the dough to cover the filling. Don't worry if there are some holes, the dough will rise a bit while baking. Sprinkle a little more of the cinnamon sugar mix over the dough before baking in the oven at 375 for about 15 minutes.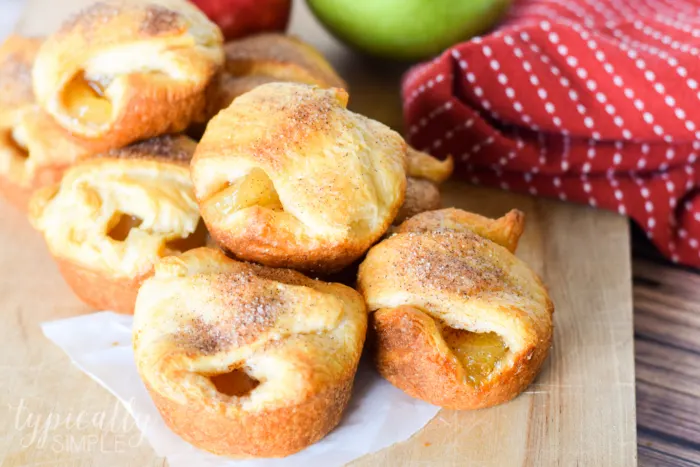 Allow the apple pie bites to cool for a few minutes before removing from the muffin tin. Serve warm and if you happen to have any leftover, store in an airtight container. They'd also be delicious to serve with a scoop of vanilla ice cream on a cool fall night!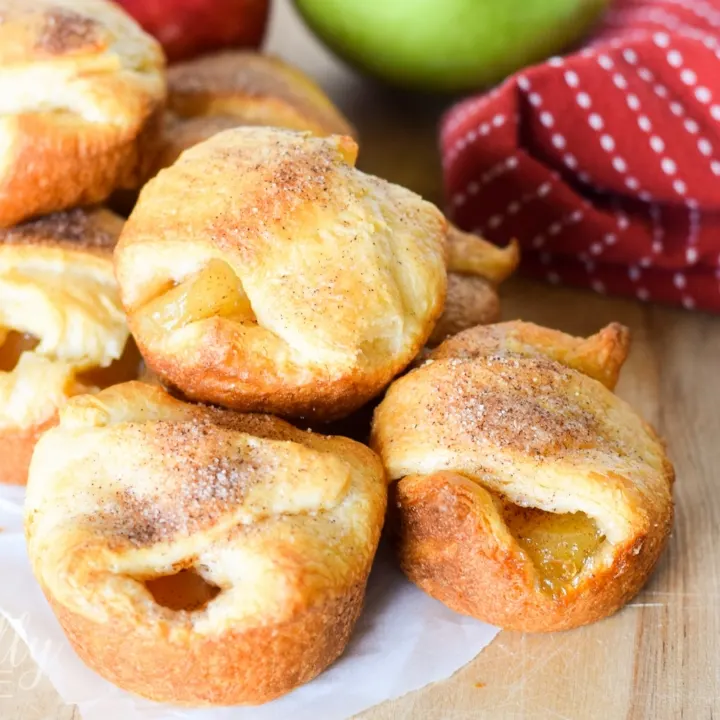 Apple Pie Bites Recipe
Yield: 16

Prep Time: 5 minutes

Cook Time: 15 minutes

Total Time: 20 minutes
Ingredients
2 cans crescent rolls
1 can apple pie filling
1 teaspoon cinnamon
2 teaspoon sugar
Instructions
Preheat oven to 375. Coat muffin tin with baking spray
Unroll and pull apart crescent rolls, placing one triangle of dough in each muffin tin.
Add one heaping spoonful of apple pie filling on top of each crescent roll.
Mix together the cinnamon and sugar, sprinkle a little over the pie filling.
Pull the edges of the crescent rolls up and over the pie filling.
Sprinkle a little more of the cinnamon sugar mixture on the dough of each pie
Bake for about 15 minutes, until golden brown. Allow to cool slightly and serve warm.
And be sure to check out a few of these other delicious treats!