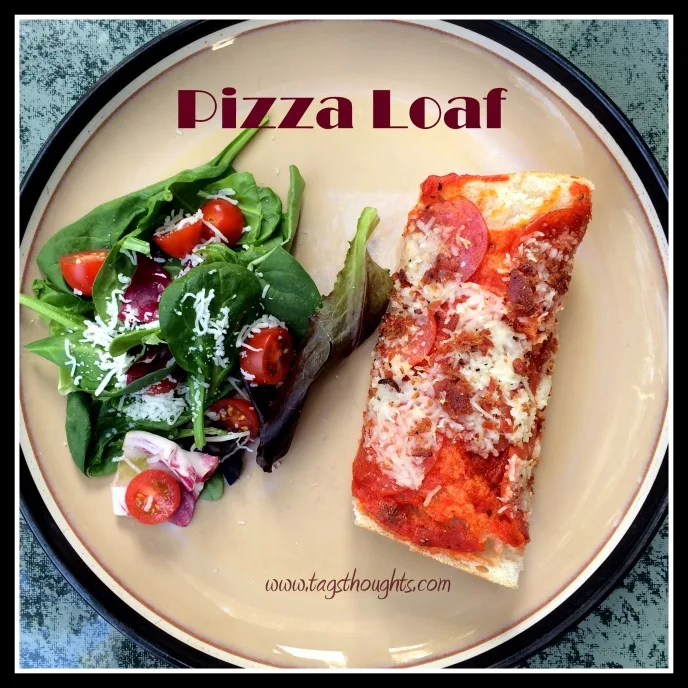 There is a definite need in homes across the country for an easy go-to kid friendly meal that requires very few ingredients and little time to prepare on a busy week night.
It just so happens I have an answer for a fast fall back meal. Baked Pizza Loaf!
You'll need three ingredients to begin: a loaf of bakery French Bread, a jar of pizza sauce and cheese. If you would like to create a meat, veggie, or combo pizza, make sure you have those particulars on hand.
If a cheese pizza is more your style, then you are in luck! Those first three necessities and 20 minutes is all it will take to be ready for dinner.
Ingredients:
1 Loaf of French Bread
1 Jar of Pizza Sauce Divided
(or tomato sauce & spices/herbs to DIY)
2 Cups Mozzarella Cheese
Toppings of Choice: Meats – Veggies – Pineapple – Peppers – Olives
Directions:
Preheat oven to 350*
Slice french bread loaf in half, long ways
Rub olive oil on the outsides of bread and place both slices on a baking sheet
Spread half a jar of pizza sauce on each open slice of bread
Layer your toppings & cheese
Bake at 350* for 12-15 minutes or until the cheese melts and the edges begin to brown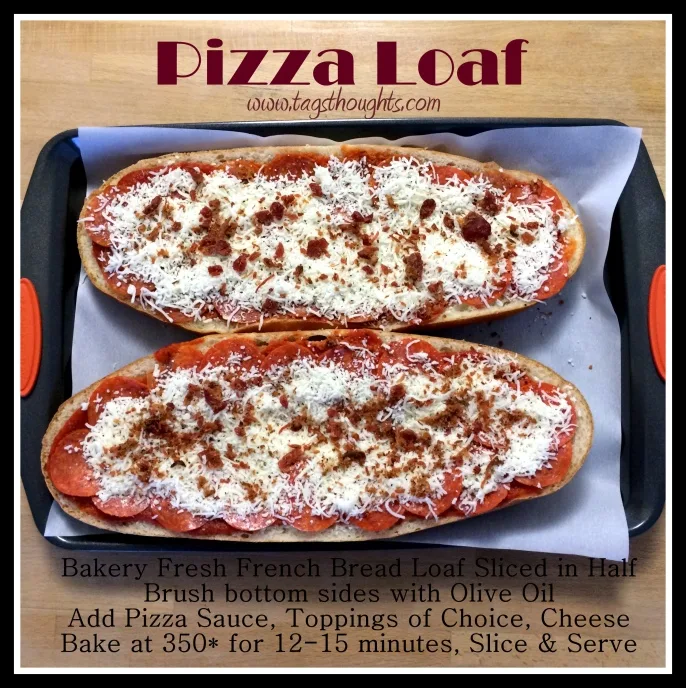 The pizza loaf on french bread shown in the photos include pepperoni & bacon pieces which is one that all three of my guys enjoy. We also like to do a quarter Pepperoni & Pineapple, a quarter Pepperoni & Red Bell Peppers, and half Pepperoni & Black Olives.
The options are endless and it is easy to create a half or a quarter that everyone at your house will enjoy.
If you do not pass a grocery store on your way home to pick up the bakery fresh french bread, then be sure to pick up a frozen french bread loaf the next time you are on the freezer aisle! Then you will have the base of this fast fall back meal on hand in the freezer, just be sure to allow prep time for the frozen bread.
A low-carb tortilla bakes well with pizza toppings for those counting their carb or sugar intake. And for calorie counters, check the back of the pizza sauce jars before you buy or jazz up a can of tomato sauce with herbs & spices to create your own!
Bon Appetite!
– Trish @ tagsthoughts.com