This post is brought to you by Fabric Creations™ and Blueprint Social. All opinions are my own.
A quick and simple way to update plain flour sack towels with some bright, fun prints using fabric ink and block printing stamps!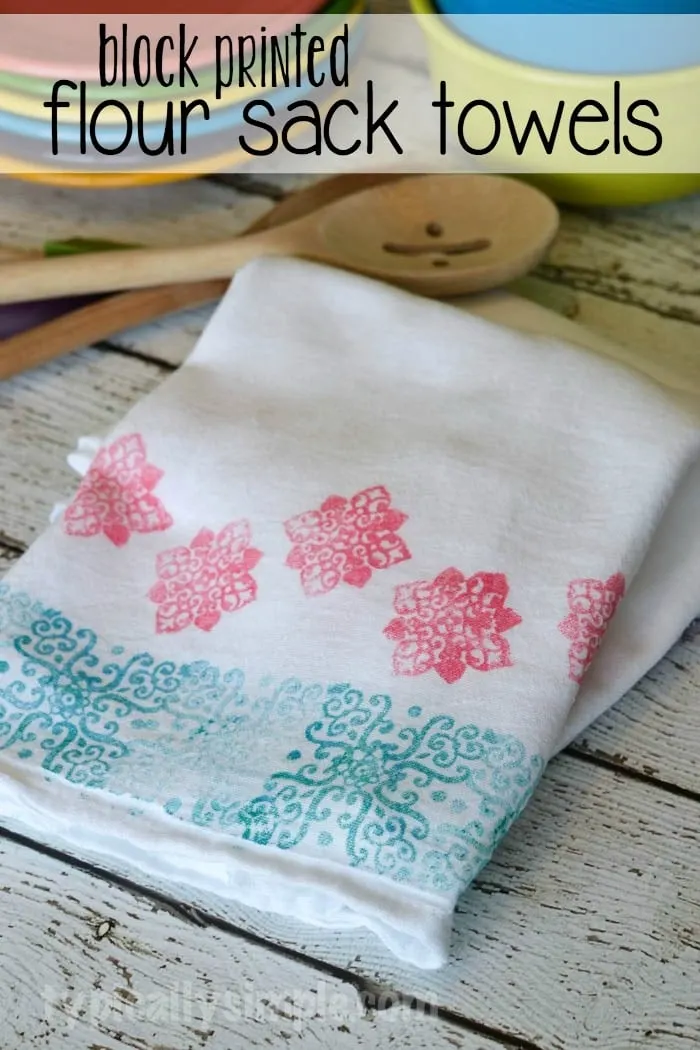 Flour sack towels are a must-have kitchen item in our house. They are inexpensive, large, and perfect for drying dishes and wiping off sticky little fingers. They are also great for cleaning up spills and wiping down counters.
I love adding pops of color throughout our house, especially with fun dish towels in the kitchen. While I do love my flour sack towels, I have to say…they are a bit boring. So when I came across Fabric Creations™ Soft Fabric Ink and printing blocks, I knew the perfect project to use them for…sprucing up my flour sack towels!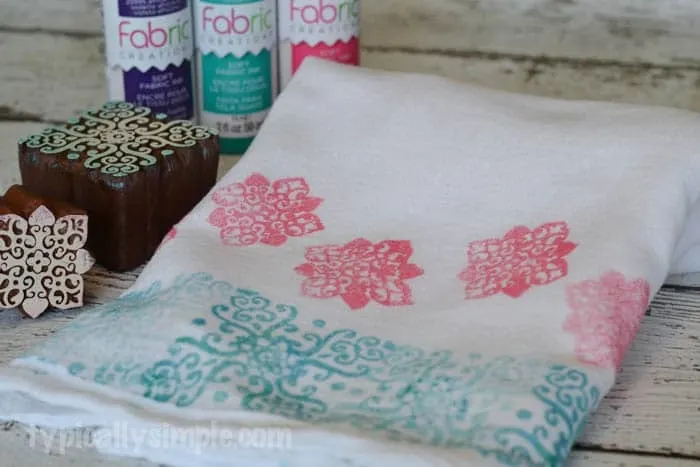 With the soft fabric ink and printing blocks, I'm able to create projects that are machine washable, water-based (easy project clean-up!) and non-toxic. And the printing blocks can be used for so much more – scrapbooking, quilts, adding prints to scarves or shirts. Tons of project ideas to make with these! Fabric Creations™ Block Printing Stamps and Fabric Ink are both available at Hobby Lobby and www.plaidonline.com.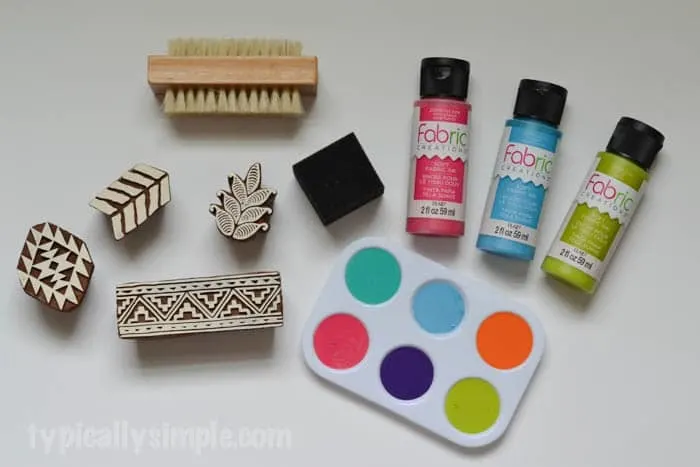 Supplies
Fabric Creations™ Soft Fabric Ink
Fabric Creations™ Block Printing Stamps
Flour Sack Towels
Foam Printing Mat
Sponge Cubes
Cleaning Brush
To get started, choose your favorite soft fabric ink colors and squirt a little onto a plate or paint palette. Load up the sponge cube with some soft fabric ink and "ponce" it lightly onto the block printing stamp. You won't want to overload it with ink or the print will not come out crisp.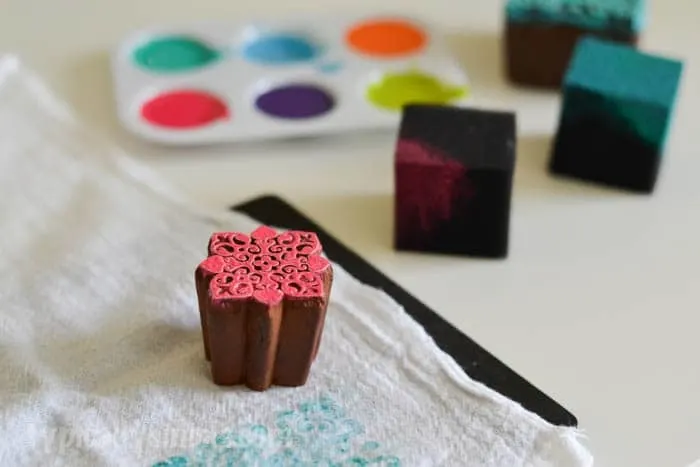 Place the foam printing mat underneath the fabric you are going to be stamping. This will give you the best results when using the stamps. Now stamp onto the fabric and viola! You are on your way to creating a one of a kind textile project.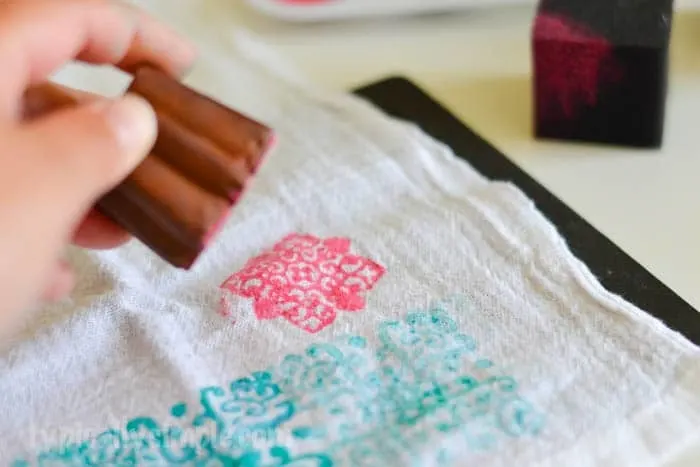 Depending on the look you are going for, you can reload the stamp with more fabric ink or you can do a few more stamps which will give your project and ombre-faded look. Many of the block print stamps can be used as stand alone designs or as a continuous design.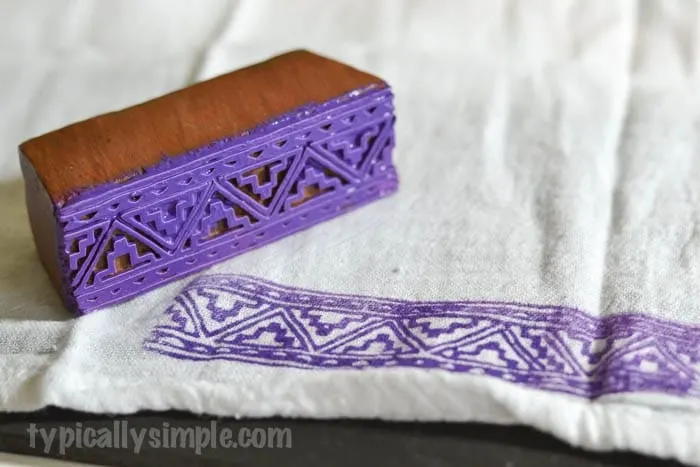 After you are done stamping and creating, you'll want to let the soft fabric ink dry for 24 hours. After 72 hours, the fabric ink will have cured and can be set with a hot iron.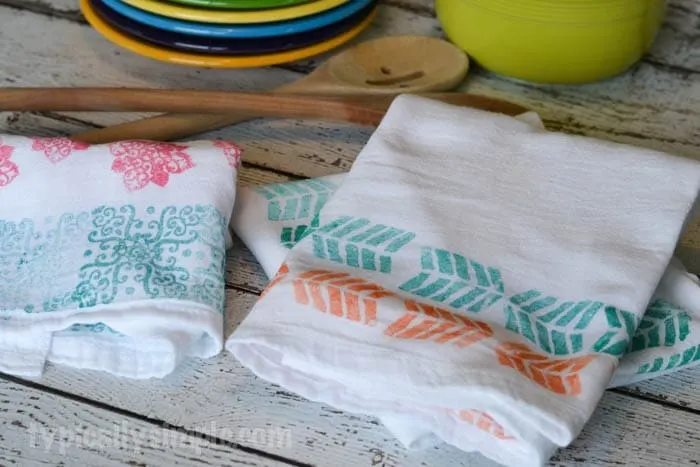 And once you are done block printing your own flour sack towels, why not make some more to give as housewarming gifts! I love how quick and simple it was to update my plain towels with some bright, fun prints.