This shop has been compensated by Collective Bias, Inc. and its advertiser. All opinions are mine alone. #MyCatMyMuse #CollectiveBias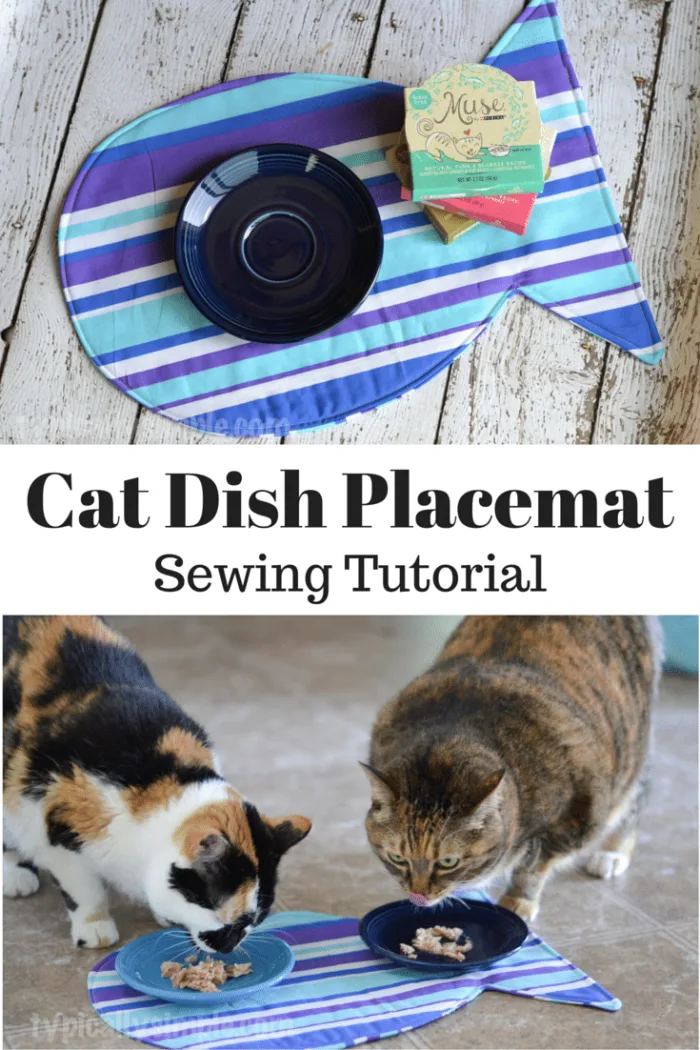 Growing up, we had a pet dog and I really was never much of a cat-person. When I went to college, I really wanted my own pet, but knew that a dog would be way too much responsibility. I was about to start student teaching and knew I just wouldn't have the time to take the dog out on walks, work on house training, go to obedience classes.
So I convinced Ryan that we should get a kitten and it could live with him at his house. Loucy lived with Ryan until he graduated and then moved with us into our first apartment. She was a quiet, clean cat who caused very little problems, just a little mischief here or there. Her favorite hobby is sleeping.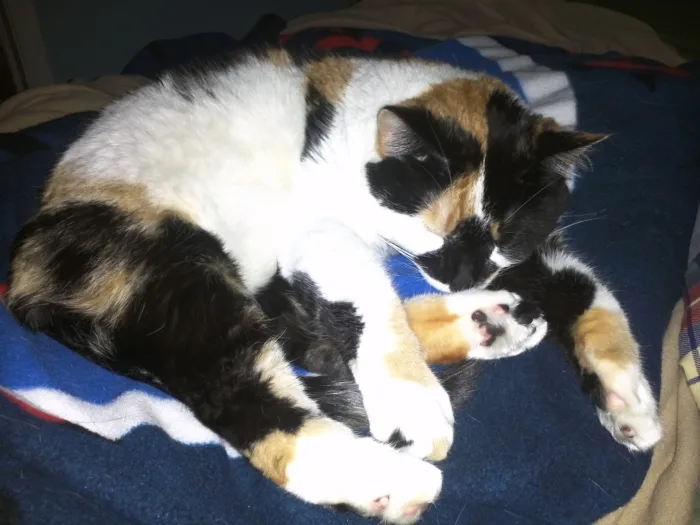 A few years later, I decided that Loucy might like a playmate. So with a little convincing, Ryan agreed to a second cat. Off we went to pick up our new kitten. And she was quite naughty. Broken blinds, ripped up carpet, shredded papers. She got into everything.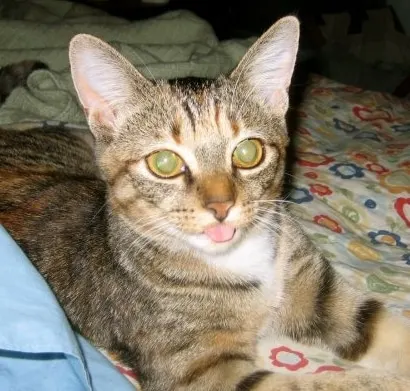 And she was very skinny. So we started calling her "Skinny Cat" and it stuck. Even her name at the vet is registered as Skinny. But the thing is…she likes to eat. And eat, and eat. Our vet jokes that we should now add "Not-so" to the beginning of her name.
We recently started her on a grain-free diet to hopefully help her lose a few pounds, so when I came across Purina Muse® Natural Cat Food which is sold exclusively at PetSmart, I thought both cats would love to eat it. Especially since it's made with real fish or poultry (tuna is their favorite treat!) and has 24 grain-free varieties.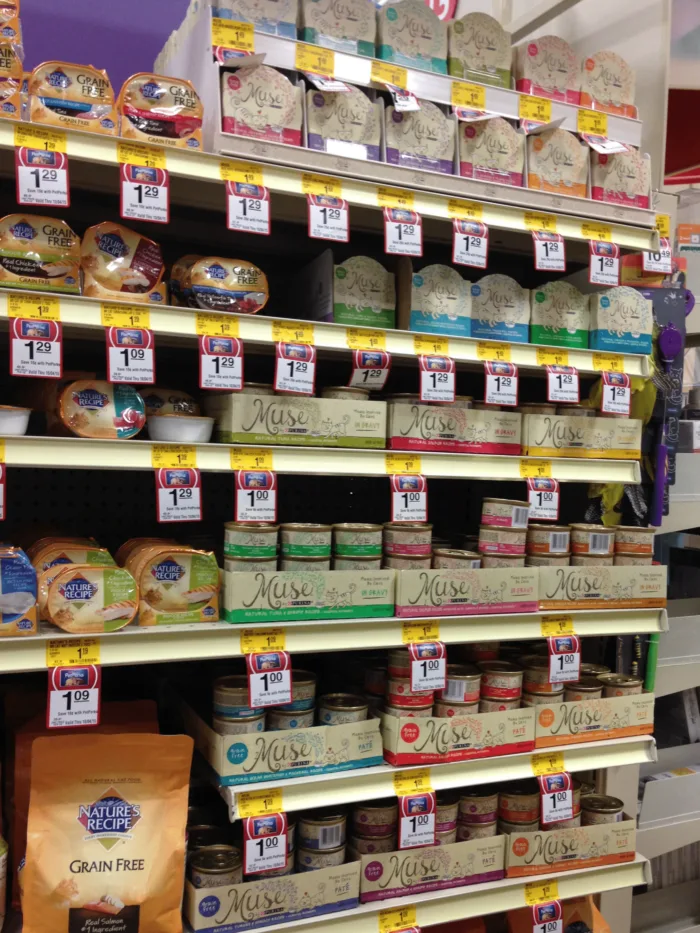 Since Skinny loves her food so much, she tends to get a little messy while eating and we always put placemats under their dishes to make it easier to clean up. I got a new sewing machine for Christmas and have only used it for a few projects, so I knew I wanted to make something fun for the cats to put under their dishes.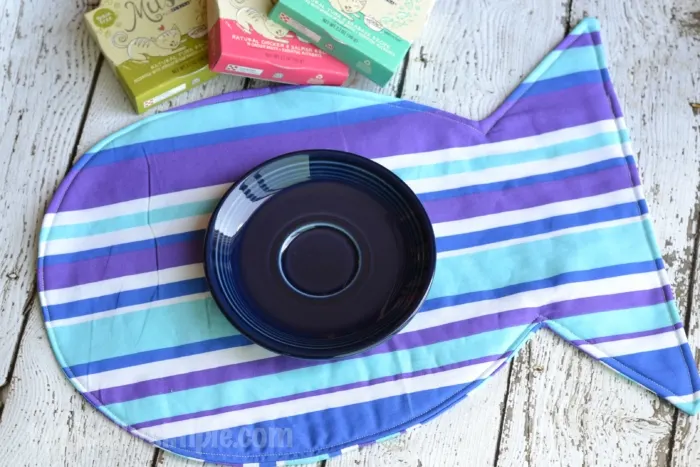 This is a great beginner project to practice sewing curves and would also make a cute gift for a fellow cat owner.
Supplies
fabric – I used about 1/2 yard
batting
scissors, marker, pins, iron
sewing machine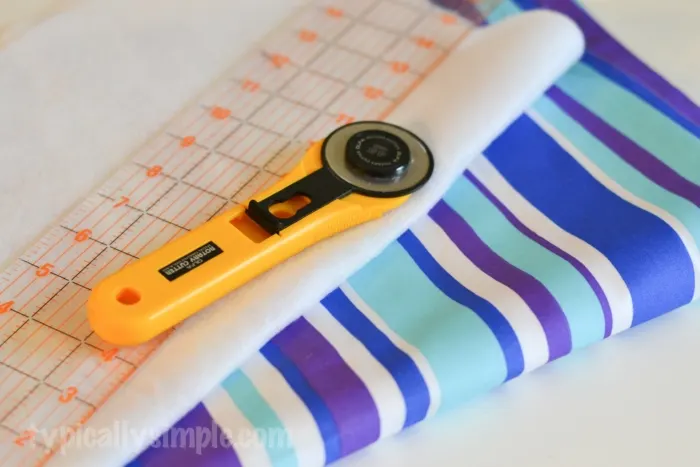 Start by cutting your fabric and batting into rectangles, slightly larger than you want the placemat to be. You will want to place your two pieces of fabric right sides together and then place your batting on top.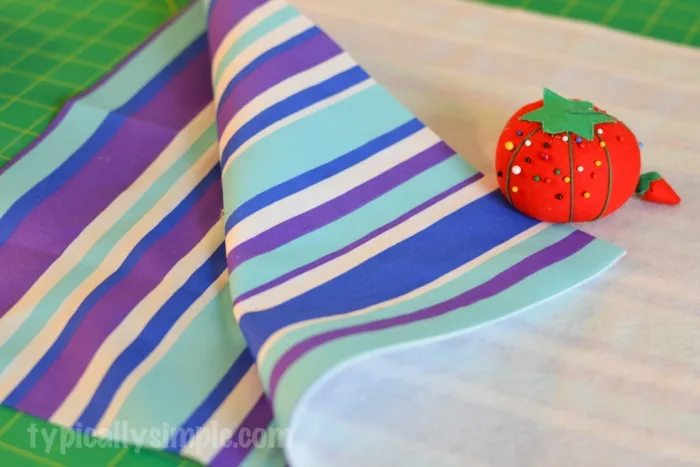 Using a template or freehanded, draw out your fish shape. Pin all three layers of fabric together, working your way around the whole shape.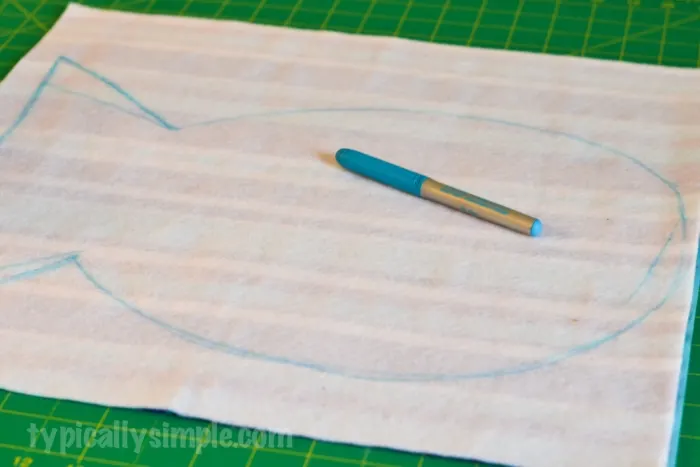 Starting at the tail, sew the layers together following the line you drew. Stop about 3-4 inches before your starting point to create an opening which will allow you to turn the fabric right side out.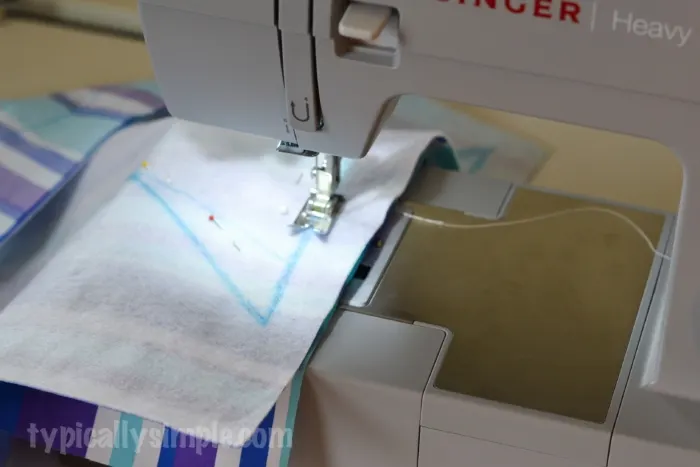 Trim all of the extra fabric and batting off. Around the curved parts, you'll want to add some little snips going in towards the seam to help the fabric lay flat when it's turned right side out. Or you can use pinking shears to cut all the way around.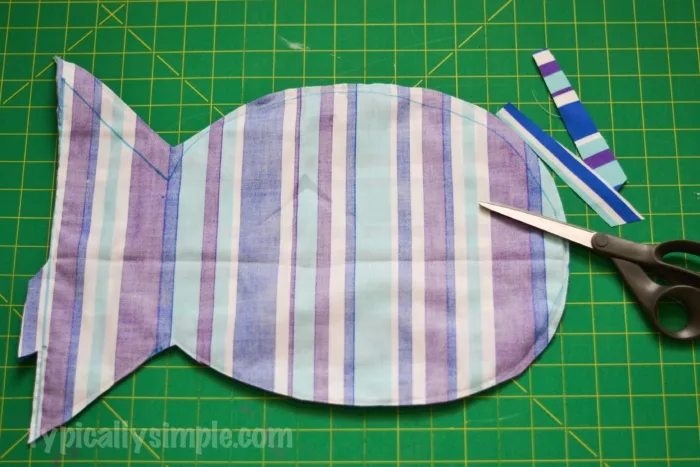 Pull the fabric right side out through the opening. Using a pencil, poke all of the corners out so the fabric lays flat. Iron the placemat to flatten the seems and topstitch around the whole project making sure to secure the opening used for turning.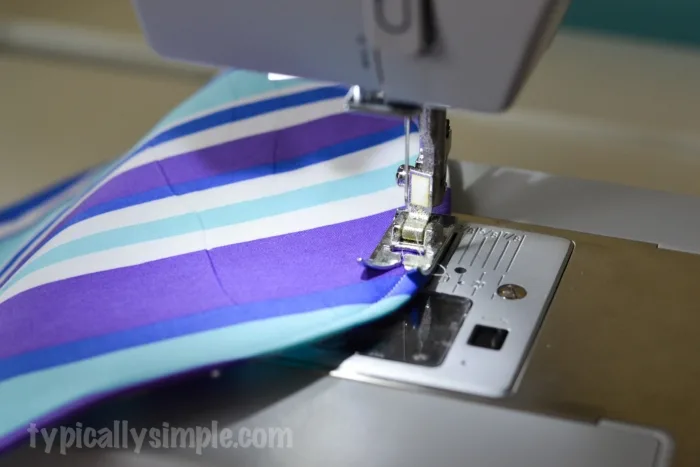 A quick sewing project – great for using up some scraps of fabric or an excuse to take a trip to the fabric store!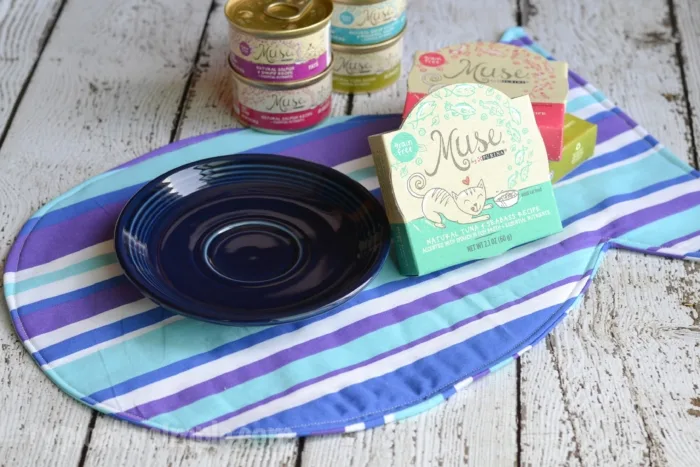 Our cats eat their wet food on teacup dishes because it's so much easier to just put them in the dishwasher after they are done eating. And honestly, we don't use those dishes for anything else. They must have a certain sound to them when they clink together, because the cats always come running when I get the dishes down. Especially Skinny Cat.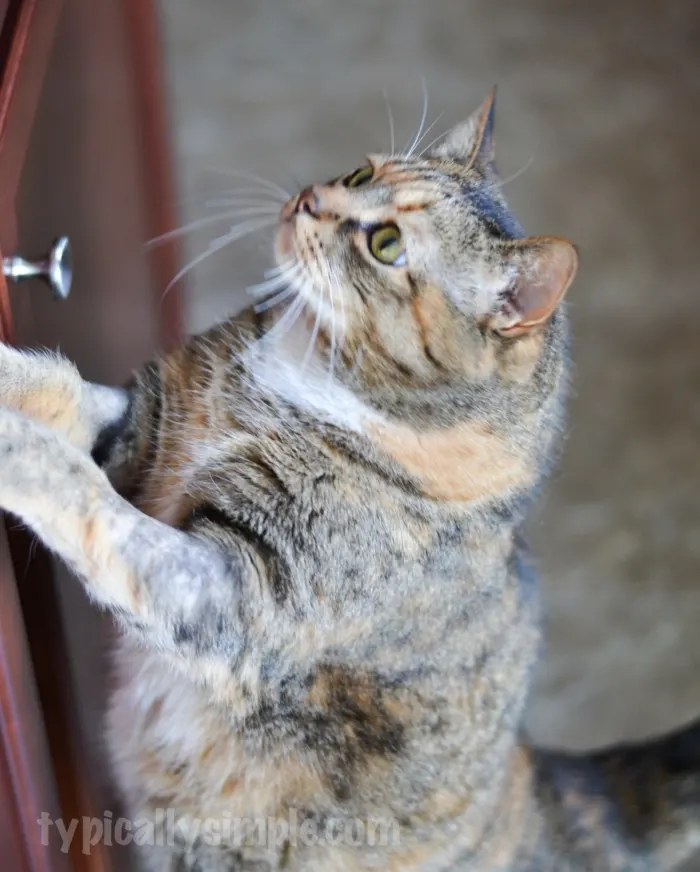 And remember how I wanted to get Loucy a playmate…well this is about the only time you will see them together. They are two cats who just live together and no matter how hard I tried, they are not the best of buddies.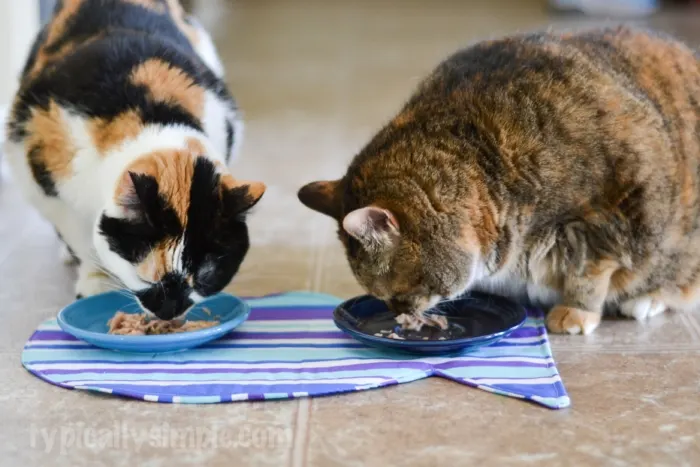 Especially when Skinny eyes Loucy's dish after she's finished eating. Which by the way, they had the same amount of food on both of their plates…she's a chow hound.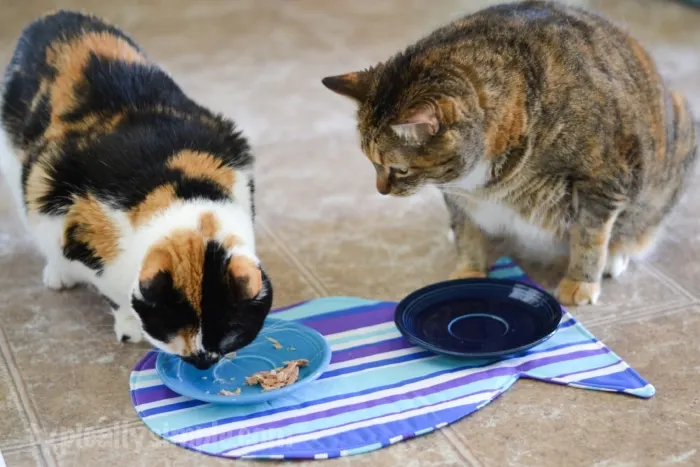 And they both gave two paws up to Purina Muse® Natural Cat Food! With Muse you don't have to choose between natural nutrition and food that tastes great. Your cat can have both when you choose Muse. Natural has never been so delicious. Put Muse to the test with our clean plate guarantee. As you can see, Skinny definitely cleaned her plate!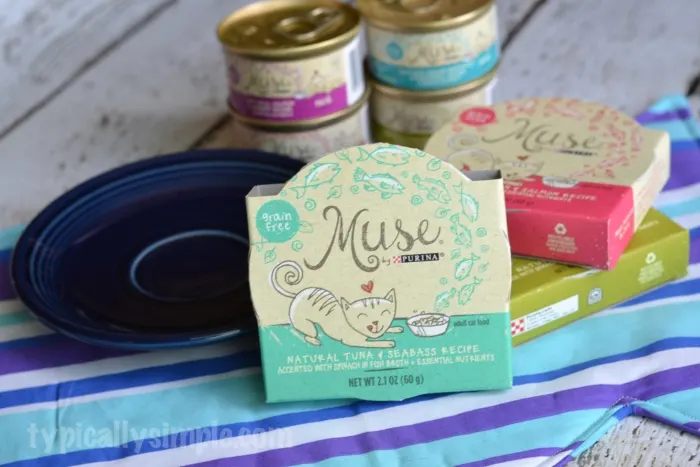 Be sure to grab a coupon HEREto save on your purchase of Purina Muse. With over 30 delicious recipes with artificial flavors, colors or preservative and 100% complete and balanced for adult cats, your cat will thank you. Which recipe will your cat be trying?