Watermelon themed count and clip cards are a fun, hands-on activity to help kids develop and build number sense skills plus work on their understanding of one to one correspondence.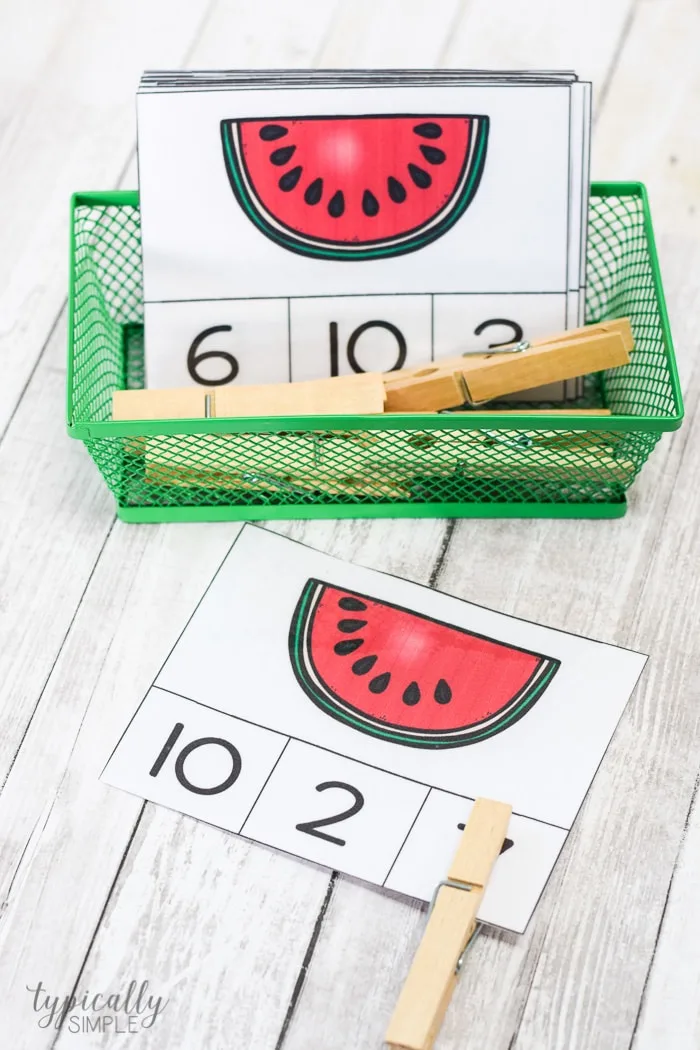 Whether your kiddos are learning at home or in a classroom, count and clip cards are a great way to help kids learn and practice a variety of skills.
These cards are great for learning at home or in the classroom; they can be used independently or with a partner during math centers. Counting cards are also fun to put in a morning basket or take on-the-go. Just toss the cards and some clothespins in a zipper bag or container and you can take learning on the road!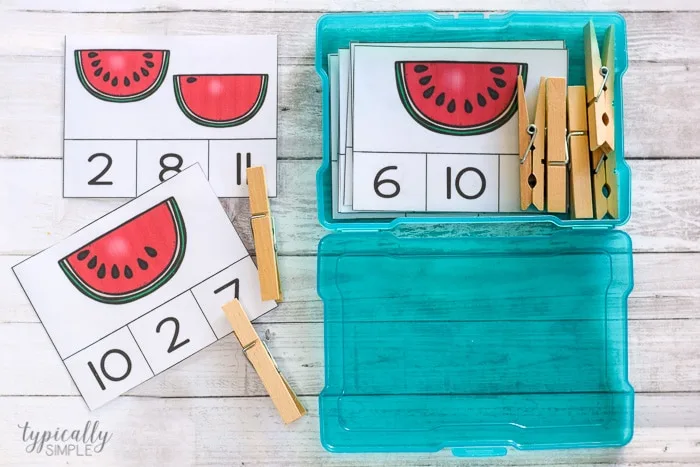 Count and clip cards can also be self-checking by just making a small dot on the back of the card that corresponds with the correct answer. That way kids can check the answers on their own to make this an independent activity.
This activity is super easy to put together…just print then cut out each card. I like to laminate mine to make them extra durable, plus it gives me a reason to use my favorite laminator! Using cardstock also helps make them last a bit longer when being used by little hands.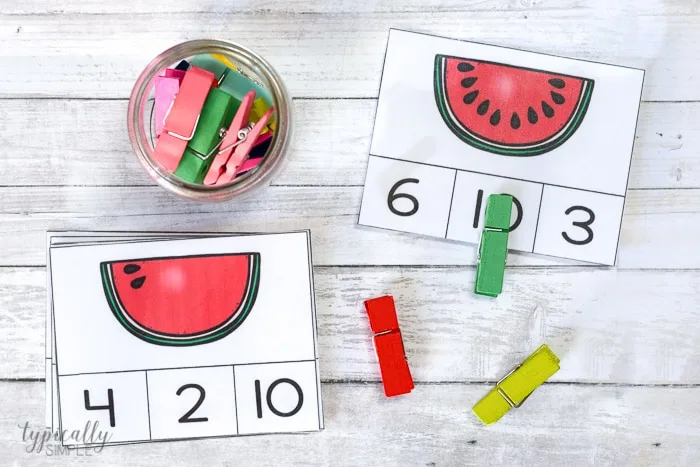 SUPPLIES NEEDED FOR COUNT AND CLIP CARDS
The following are affiliate links. As an Amazon Associate I earn from qualifying purchases.
A full set of 20 cards with numbers 1-20 can be purchased from the Typically Simple Printables Shop.

HOW TO MAKE COUNT AND CLIP CARDS
Print out the count and clip cards on cardstock or regular printer paper.
Laminate the full sheet.
Cut out each card by following the outline.
Place in a bin or bag with clothespins for quick and easy set-up.
Have kids count the number of watermelon seeds and clip the clothespin onto the corresponding number.
Looking for more printables to make learning fun? Be sure to check these out:
Count & Clip Cards: Pumpkin Seeds
Count & Clip Cards: Ocean
Hidden Letter & Number