With so many ways to customize this felt flower burlap wreath, it's such a colorful yet inexpensive addition to your spring decor!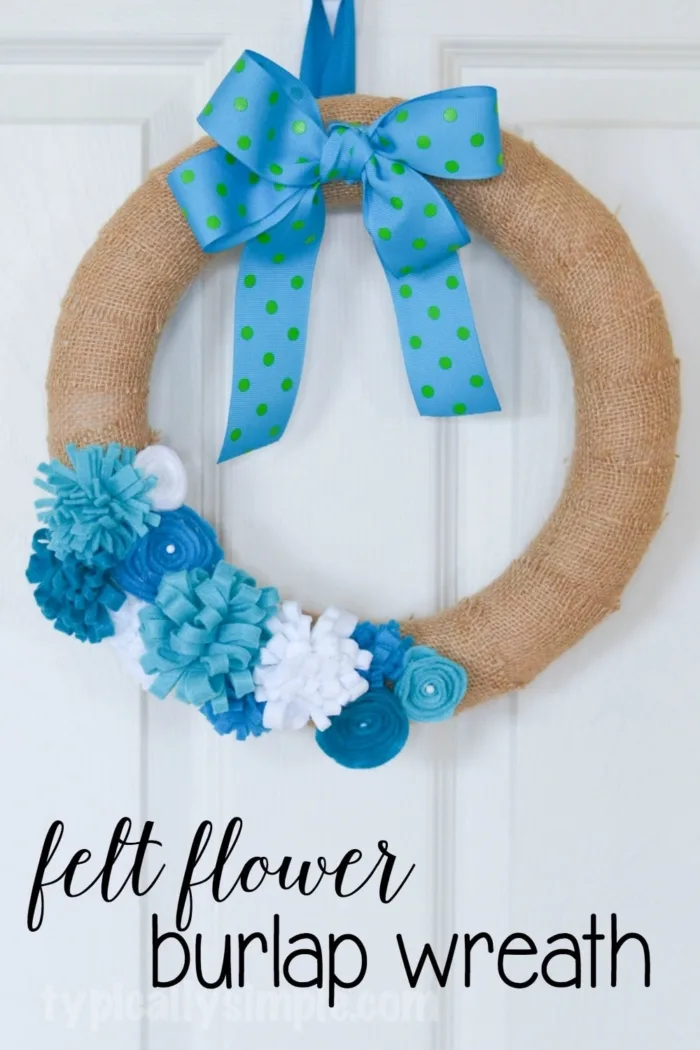 Felt is something I totally forget about when making crafts. And after making this wreath, I feel like I need to find some more project ideas for felt because it's super inexpensive and comes in lots of pretty colors!
My original plan was to hang this on our front door…but after hanging it up in the kitchen to take some photos for this post, I decided it looks cute just where it is! With how simple it was to make, I could easily make another one for the front door in different colors.
How to Make a Felt Flower Burlap Wreath
Supplies
10 inch styrofoam wreath form
burlap cut into strips about 2-3 inches wide
felt
ribbon
hot glue gun & glue
scissors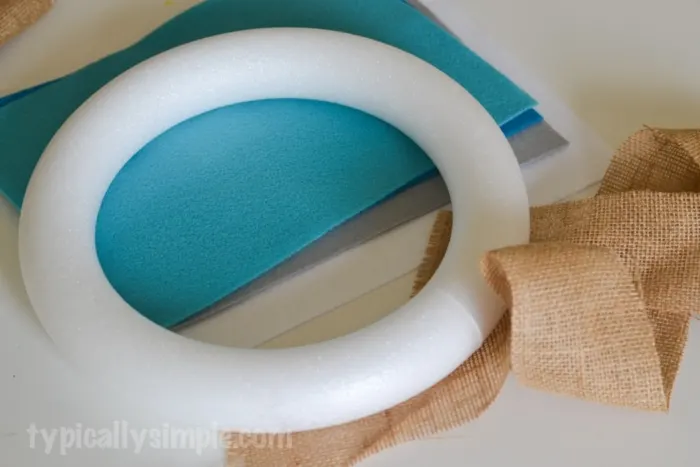 Instructions
Start by attaching the end of a strip of burlap to the wreath form using a bit of hot glue.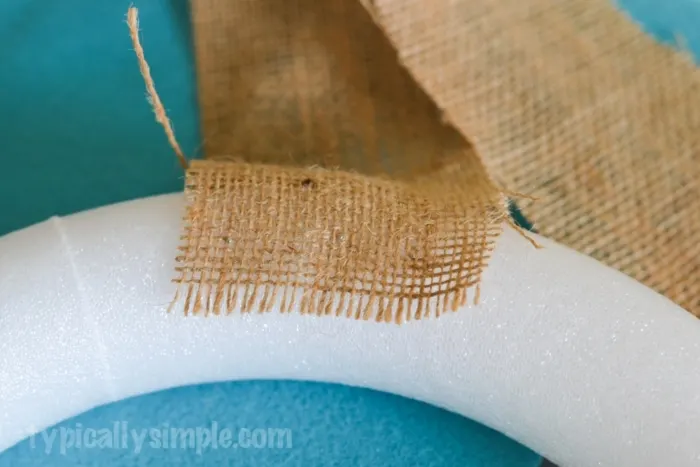 Start wrapping the strips of burlap around the wreath, when you come to the end of a strip, just glue it down and start again with a new piece until the whole wreath is covered.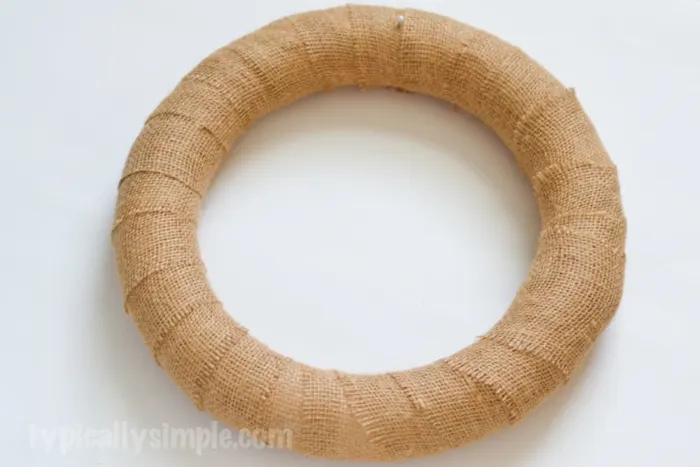 Then you will want to make your felt flowers. I used this awesome tutorial from Michelle of Our Three Peas. She shows you how to make four different types of felt flowers.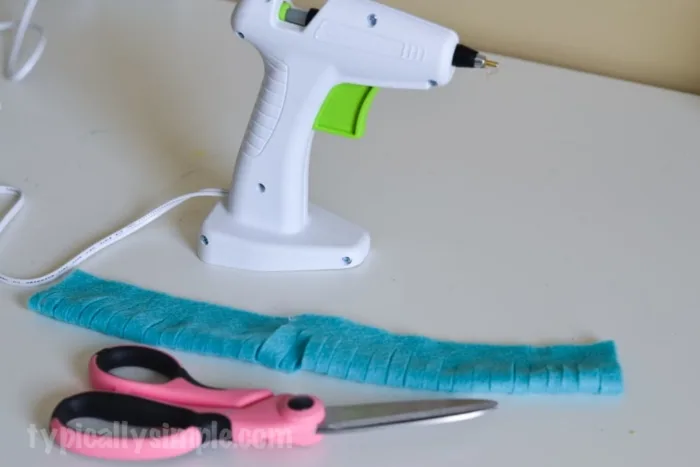 After you make all of your felt flowers in different sizes, shapes, and colors, it's time to design the wreath! Lay the flowers out on the wreath to get a general idea of how it will look before you start glueing them down.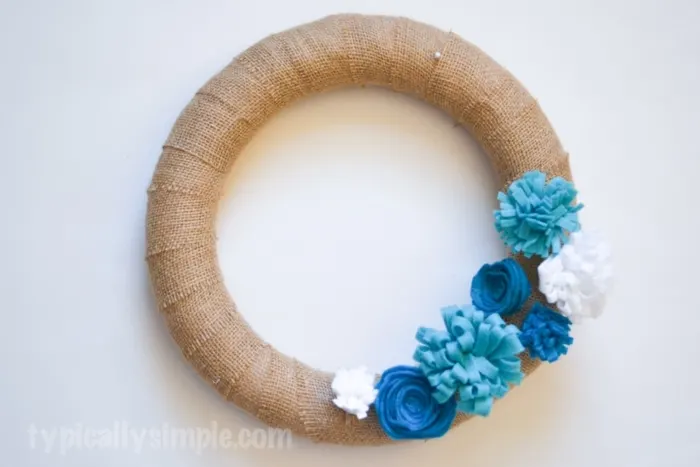 Then using the hot glue gun, start attaching them to the wreath. You could also add some other embellishments – my neighbor just made a similar wreath and added the cutest little butterflies that she found at Hobby Lobby!
I decided to add a bow to the top of mine…and I won't even tell you how long it took me to get a decent looking bow for this. Let's just say I had a lot of fights with the ribbon and glue gun and a few choice words!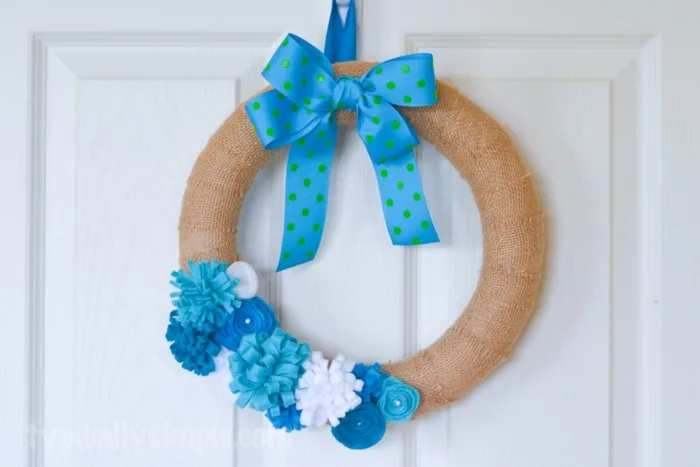 Finally, attach a small loop of ribbon to the back to use as a hanger. And that's that! A beautiful felt flower burlap wreath perfect for spring!
With so many different colors of felt available, it's super easy to create a wreath with colors that match your decor or even for holidays! This would also be fun to make with printed or colored burlap to give it a different look.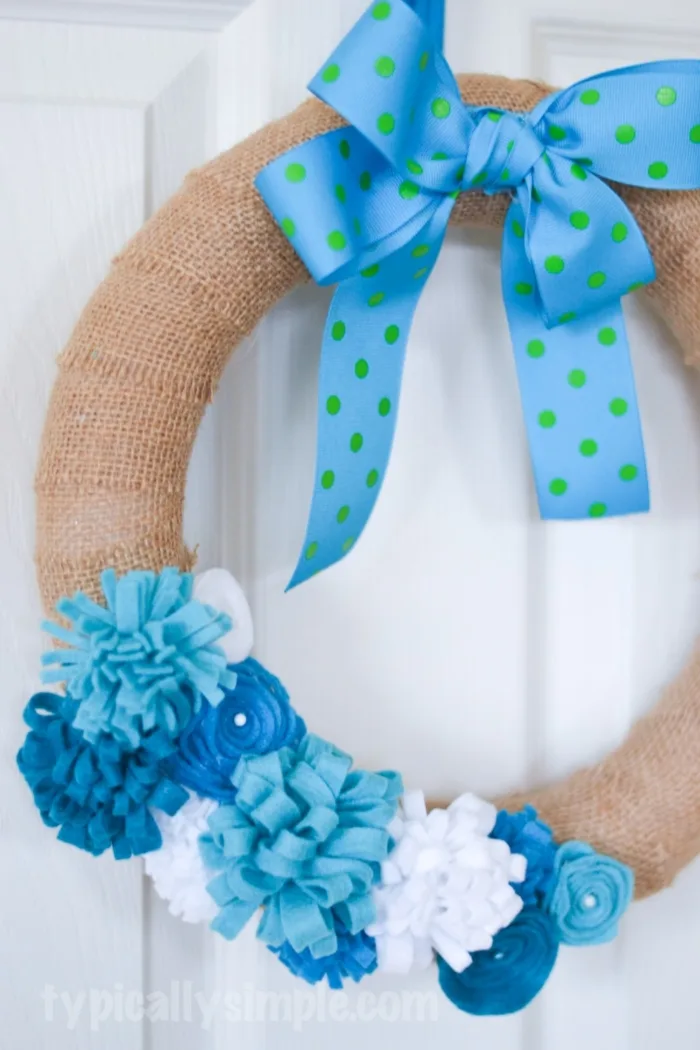 . . . . .
Looking for more wreath ideas? Be sure to check out these other easy to make projects!

Cupcake Liner Wreath | Scrapbook Paper Hearts Wreath | Patriotic Dahlia Wreath