If your kiddos enjoy getting a little messy when crafting, then making these marbled paper Easter Eggs is the perfect project for them!
Spring is such a fun time of the year…the weather is finally starting to warm up (hopefully!) and I love crafting with all the pretty pastel, spring colors. Everything is so fresh and new again. I also love making decorations the spring holidays – St. Patrick's Day is one of my favorites, and of course Easter!
This is a great craft to make on a rainy (or snowy) day and the marbled paper technique can be used for other shapes, too!
Supplies
shaving cream
card stock cut into egg shapes
acrylic paint
tray or box lid
paintbrush, toothpick, or fork
newspapers & paper towels
scraper tool
How to Make Marbled Paper Easter Eggs
Right away this craft gets messy! Spray shaving cream onto a tray or box lid and have the kids spread it around. I actually used a cookie sheet lined with tin foil to make clean-up a little easier.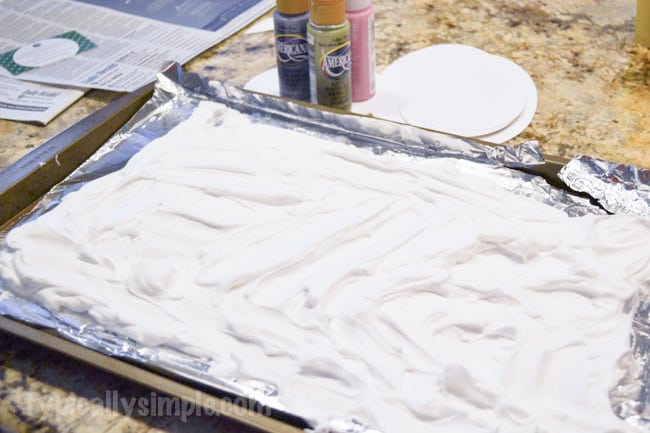 Let the kids decide on the colors of paint they want to use for their marbled paper and squirt it on top of the shaving cream. Make paint drops, lines, squiggles…be creative!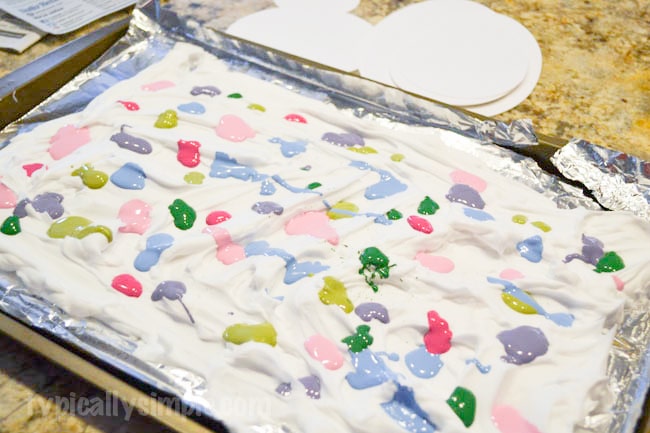 Then using a toothpick or another pointy tool (fork, paintbrush) start dragging the paint through the shaving cream. Make straight lines back and forth. Then do it again, but this time go up and down to start creating a marbled look.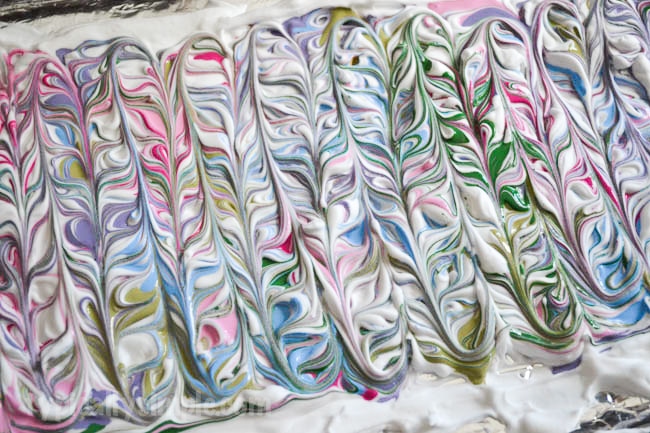 Now time to get messier! Younger kids could need a little help with this step. Take the paper egg and place it on top of the shaving cream. Apply a little pressure to push it down into the paint & shaving cream, then pull it up and place on newspaper for a few minutes.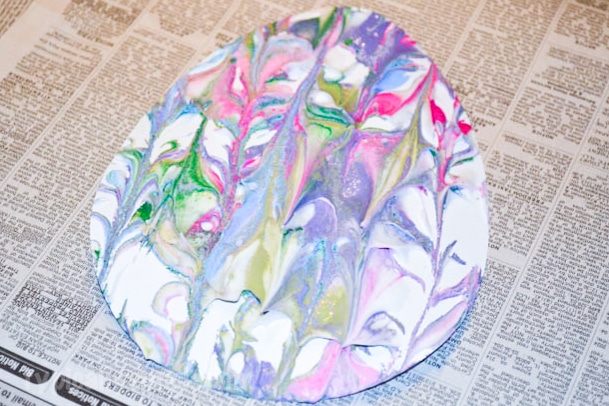 Using some sort of scraper tool (I used an old gift card) scrape off the shaving cream and let the paint dry for a bit.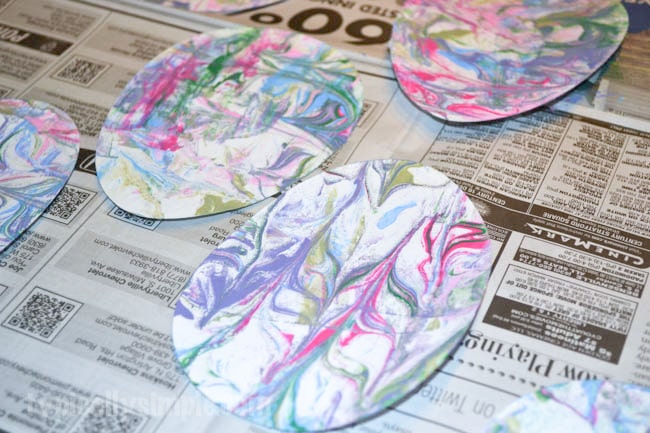 As you make more Easter eggs, the paint will start to become less marbled looking and more blotchy looking…but it still looks fun and I bet the kids won't mind too much!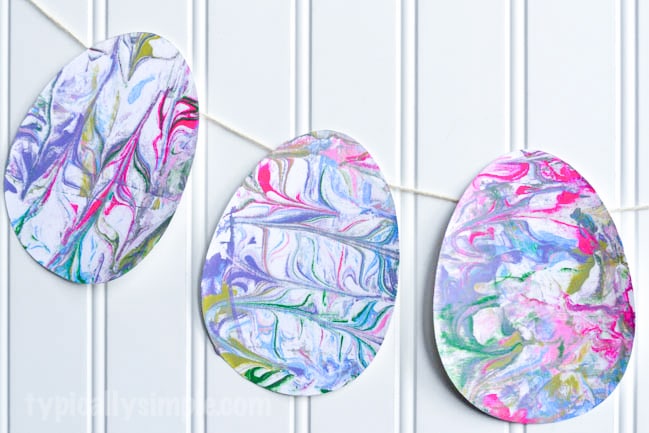 Once the paint has dried, display your eggs for Easter. I attached mine to some twine to make a little Easter banner to hang up in our house.
This project was first shared as a contributor post on A Night Owl.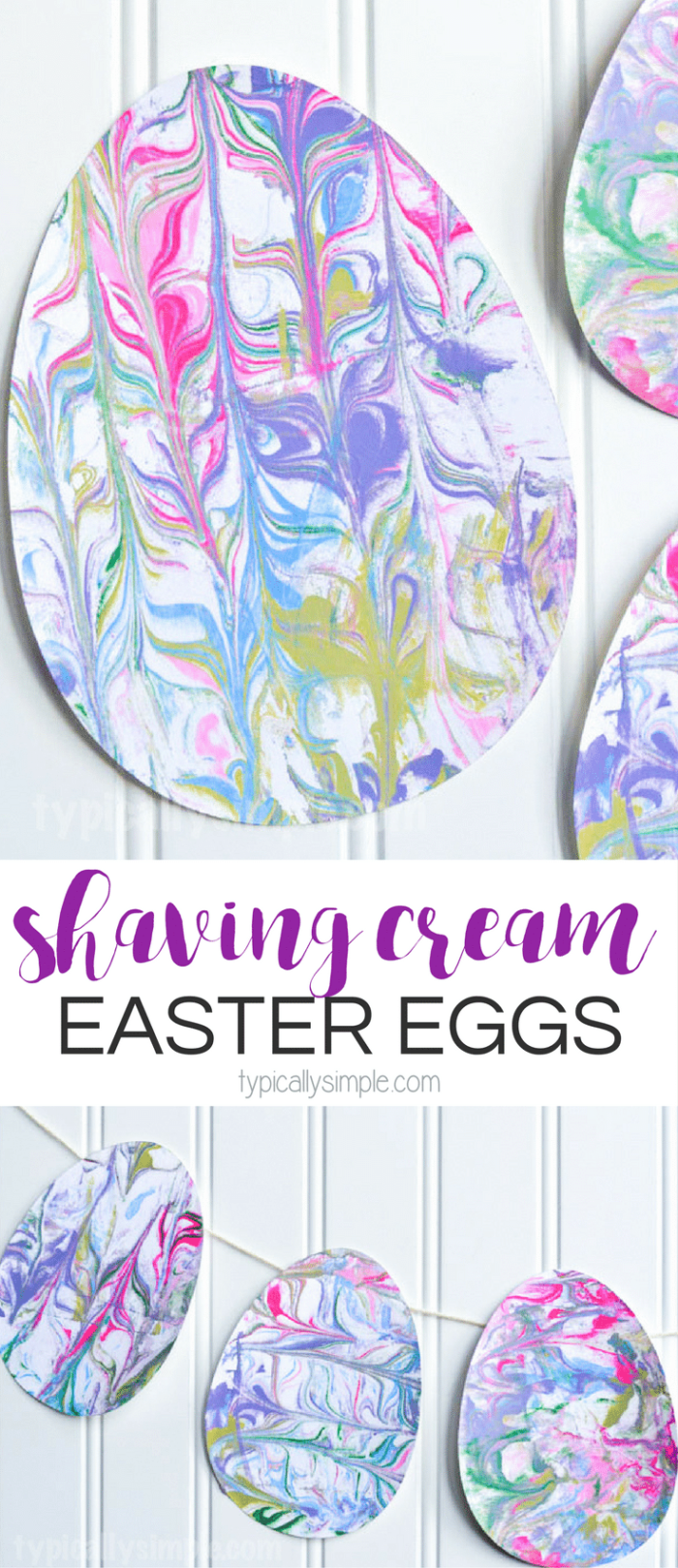 Here are a few more kids' crafts that are perfect for spring!