Now that the weather is getting chilly, we don't grill as much as we did in the summer months. I love the yummy dishes that fall brings, comfort foods. A tried and true dish for which I always have ingredients stocked is a mostaccioli bake. My mom gave me this recipe years ago and it is one my husband requests this time of the year. And it makes great leftovers for lunch the next day!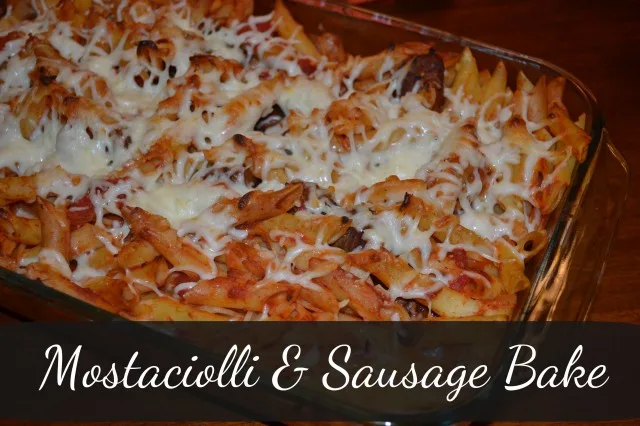 Mostaccioli and Sausage Bake – Recipe
Ingredients
8oz mostaccioli noodles
1 1/2 lb Italian sausage
1/2 cup onion
1/4 cup green pepper
1 clove garlic minced
1 – 16oz can tomatoes diced
1 – 6oz can tomato paste
1/2 cup water
1/4 tsp oregano
1/8 tsp pepper
6 oz shredded mozzarella cheese
Instructions
Preheat oven to 350
Cook noodles as directed on the box
Brown sausage, onions, & green pepper
Add undrained tomatoes, paste, water, & spices to sausage mixture – stir well
Add pasta
Spoon half the mixture into a large baking dish
Top with cheese
Add rest of mixture
Bake for 35 minutes
If desired, more cheese can be added to the top of the mixture. Serve with a tasty side of garlic bread!