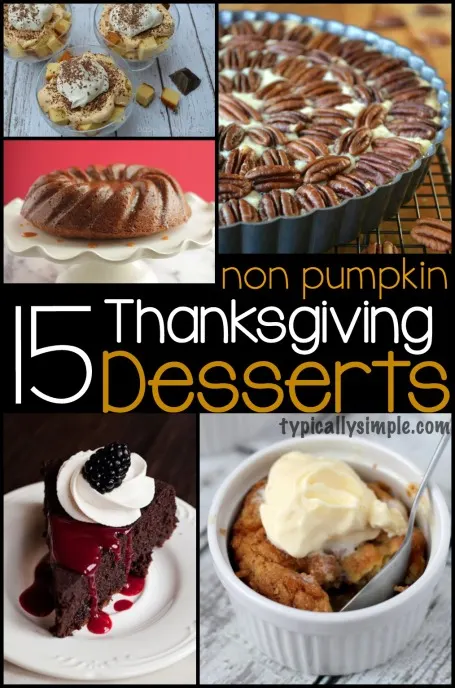 Now that the Halloween candy is down to the last few pieces and I don't even want to think about how much I have eaten the past few days, it's time to start thinking about Thanksgiving!
I love Thanksgiving dinner…all of my favorite foods sitting on the table all at once! YUM! And my other favorite thing about Thanksgiving? The delicious desserts! Especially pumpkin pie. We actually had our first pumpkin pie of the holiday season a few weekends ago. We went up to Minnesota to visit with my husband's family and my mother-in-law made a pumpkin pie that was to die for! The recipe came from her grandmother! I feel like once I have some pumpkin pie, it's officially the holiday season.
Back to those delicious Thanksgiving desserts. It's always a guarantee that we have a pumpkin pie at dinner. But not everyone loves pumpkin pie the way I do. So we usually have a few other desserts…because after eating a huge meal, there is always room for dessert, right?!
So I rounded up some fabulous dessert recipes that are perfect for those who are not pumpkin pie lovers…and even after a slice of pumpkin pie, you can bet that I will be eating some of these other desserts!
Cookies and Cream Cupcakes // Typically Simple
Caramel Macchiato Tiramisu Parfaits // Baby Loving Mama
Caramel Pear Crisps // Oh My! Sugar High
Apple Spice Cake // DIY Candy
Pecan Pie Shortbread // The View from Great Island
Candy Apple Cheesecake Cookie Bars // Just Us Four
Caramel Apple Pie // Thrifty Jinxy
Raspberry Swirl Cheesecake with Chocolate Cookie Crust // Baking and Boys
Turkey Cookies // The Mandatory Mooch
Pecan Tassies // embracing homemaking
Berry Cobbler // Seeing Sunshine
Peanut Butter Pie // Bless this Mess
White Chocolate Cranberry Bars // Pounds 4 Pennies
Flourless Chocolate Cake // Ashlee Marie
Individual Apple Cobblers // Just Us Four
So many of these are perfect for upcoming Christmas parties and dinners, too!
Looking for even MORE dessert ideas? Click the photo below for Chocolate Dessert Recipes!