15 great lunch ideas for when sandwiches start to get boring. Perfect for school or work!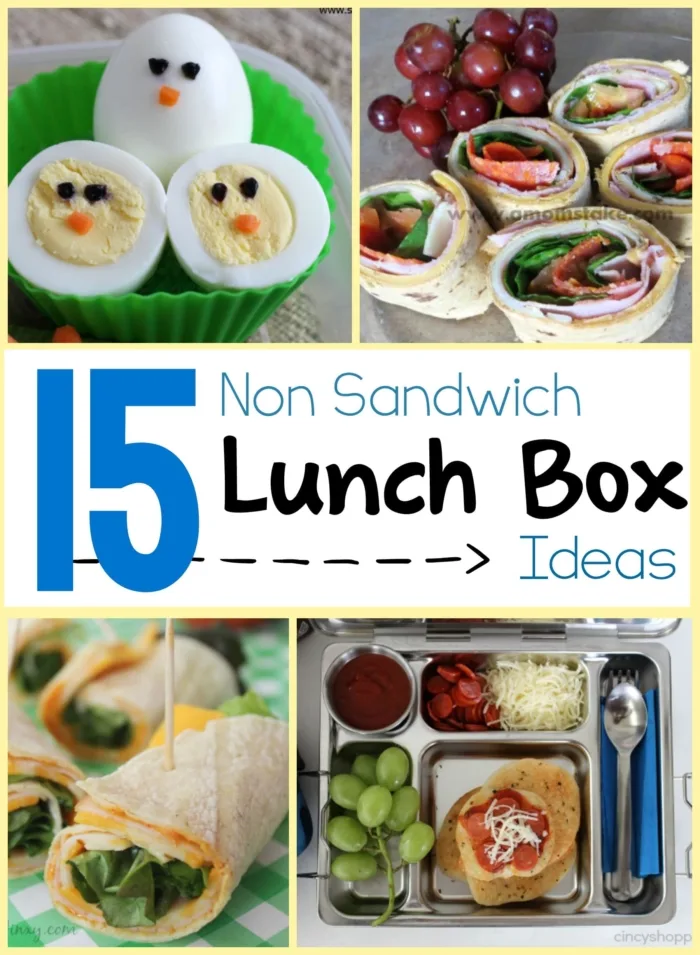 While I do love a good PB&J sandwich, sometimes a sandwich for lunch day in and day out gets a little old. For both kids and adults.
I love the idea of bento boxes although I will probably never be the mom who makes them with a theme in mind, even though they are super cute – but I like that they offer choices for the kiddos. I also think it helps get out of the bread sandwiches rut.
So I found some fun non sandwich lunch box ideas to share with you all! They are all super easy to make and changes up the regular old sandwich just enough to make them a hit with the kiddos (and adults, too!).
Hardboiled Egg Chick Bento
Pizza Bento Box
Southwest Turkey Wrap
Flatout Pinwheel Party Sandwiches
Ham and Cheese Biscuit Bites
PB&J Sushi
Peanut Butter and Fruit Pizza
Lunchbox Kabobs
Tortilla Pinwheel Lollipops
Cream Cheese Tortilla Roll-ups
Peanut Butter Quesadillas & Grape Jelly Dipping Sauce
Teenage Mutant Ninja Turtles Bento Box
Waffle and Fruit Kabobs
Monte Cristo Bites
Chicken Taco Bento Box
Be sure to print off these super fun lunch box notes, too!