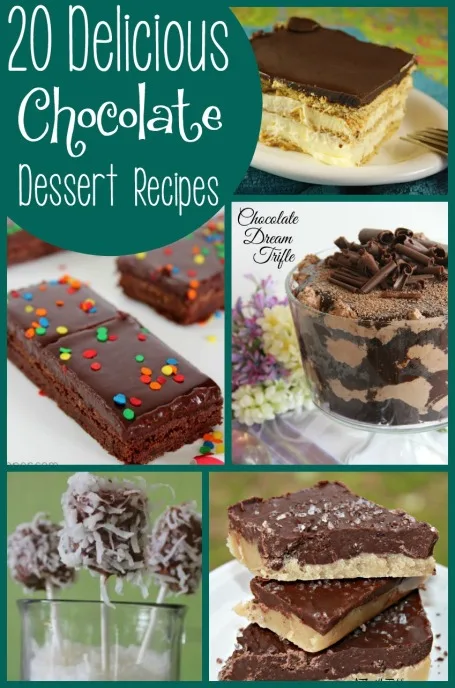 Chocolate – it should have its own food group. I absolutely love everything and anything chocolate. Even at a young age, chocolate was the sweet treat I loved the most.
There is a home video of me and my brother opening our stockings at Christmas. A little chocolate bar had fallen out of one of our stockings which I spotted right away. I asked my brother numerous times if it was his, but he was too busy and ignored me. Therefore I shrugged my shoulders and said, "must be mine!" And put the candy bar in my pile.
These days, while I still love a good candy bar, I love making (and eating) chocolate dessert recipes. One of my favorites by far is Death by Chocolate cake. I'm always looking for new recipes which I can make for parties or holidays.
So I rounded up 20 delicious chocolate dessert recipes! Now to decide which one I will make first!
No Bake Chocolate Eclair | The Kitchen is My Playground
Chocolate Dream Trifle | Diary of a Recipe Collector
No Bake Chocolate Cheesecake Bars | Ann's Entitled Life
York Peppermint Turnovers | A Mom's Take
Annie's Blue Ribbon Chocolate Cake | How Does Your Garden Grow?
Double Chocolate Chip Muffins | The Pinning Mama
Turtle Cookie Cups | Canadian Free Stuff
Chocolate Peanut Butter Blossoms | This Mom Can Cook
Chocolate Coconut Marshmallow Pops | Couponing For Freebies
Chocolate Cupcakes with Peanut Butter Filling | Frugal Coupon Living
Chocolate Chip Banana Bread | Stockpiling Moms
Chocolate Mousse Pie | This Mom Can Cook
Chocolate Crinkle Cookies | Adventures in Coupons
Chocolate Cashew Bars | Ann's Entitled Life
Cosmic Brownies | Cincy Shopper
Chocolate S'mores Pudding Cups | Family Frugal Fun
Chocolate Salted Caramel Bars | A Thrifty Table
Death by Chocolate Cupcakes | Raking in the Savings
Chocolate Mug Cake | Mommy Enterprises
Cheesecake Brownie Bites | Adventures in Coupons
Click the photos to check out these other great recipe roundups!