Dipping Rice Krispies treats into melted chocolate is a fun twist on a classic childhood treat we all know so well.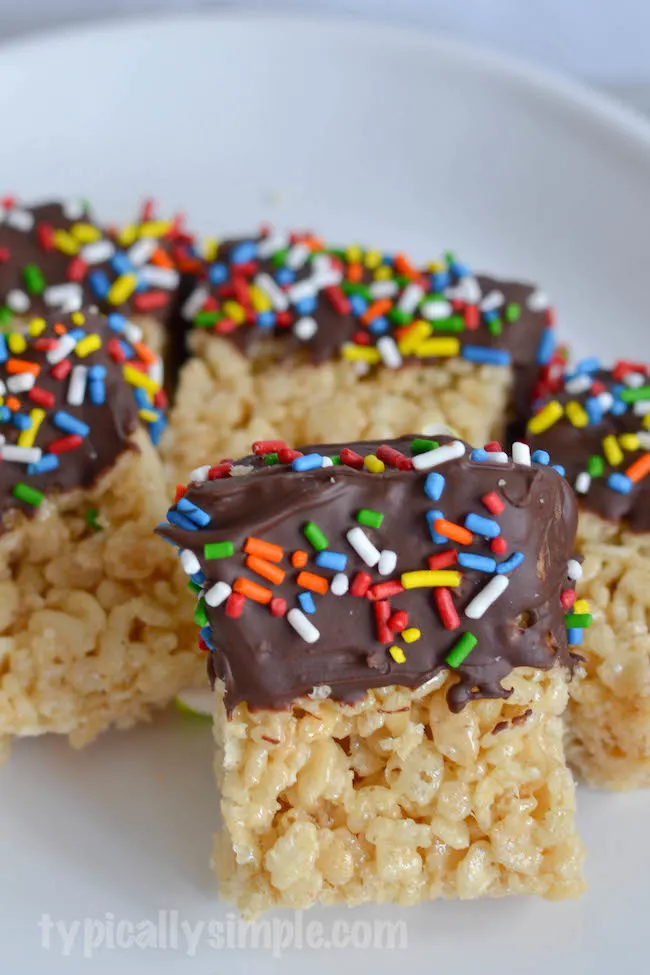 I'm always looking for simple dessert ideas to make for parties and Rice Krispies Treats are one of my favorites, I could seriously eat a whole pan, especially the Scotcheroos ones. Yum!
I love everything and anything chocolate, so I thought it would be fun to make chocolate dipped Rice Krispies Treats. This would also be a fun activity to do with the kids!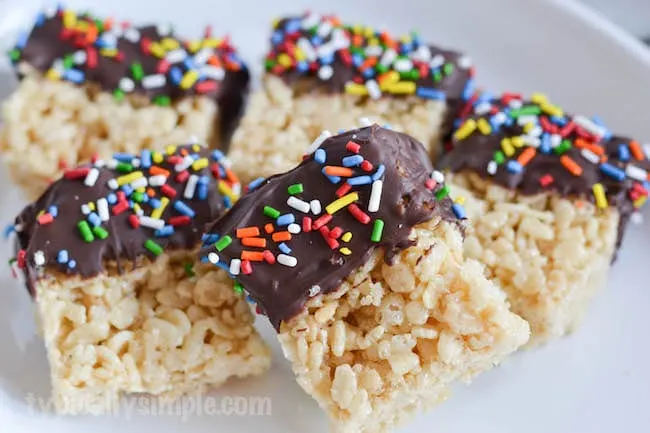 Chocolate dipped Rice Krispies Treats
Ingredients
6 cups Rice Krispies
1 package of marshmallows
3 tbsp butter
cooking spray
1 bag of chocolate chips
sprinkles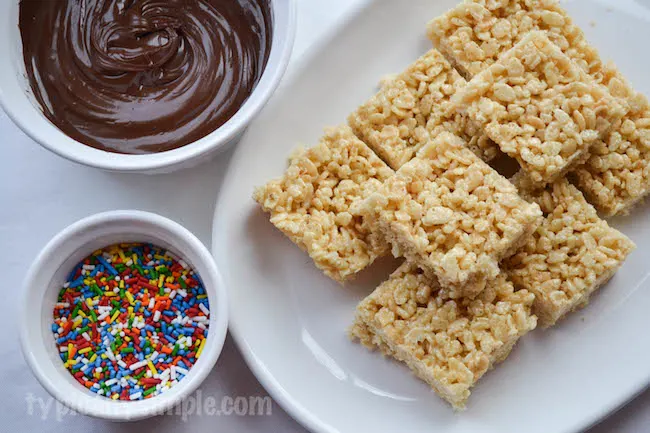 Directions
Melt the butter and marshmallows in a large pan over low heat, stirring occasionally until completely melted.
Remove from heat and stir in the 6 cups of Rice Krispies.
Coat a 9×13 pan and spatula with cooking spray, pour mix into pan and press down evenly with spatula.
Let cool completely and cut into squares.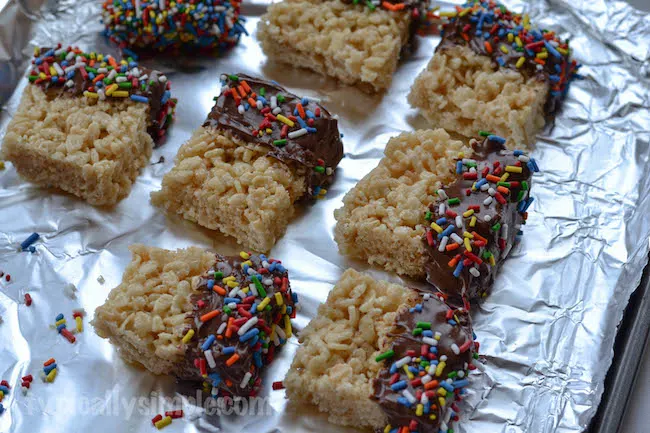 To melt the chocolate, I dumped about half the bag of chocolate chips into a microwave safe bowl and heated it up at 50% power for 30 seconds at a time, stirring it each time until it was completely melted.
Dip a rice krispies treat square into the chocolate, swirl it around a little to get good coverage, and place on a tin foil lined baking sheet. I decided to just dip half in chocolate, but you can definitely dip the whole thing for a chocolatey delicious treat!
Add the sprinkles and let the chocolate harden before eating. You can pop them into the fridge for about 10 minutes to speed up the process…which mean you can eat them sooner!
This post was first published on Club Chica Circle in February 2015.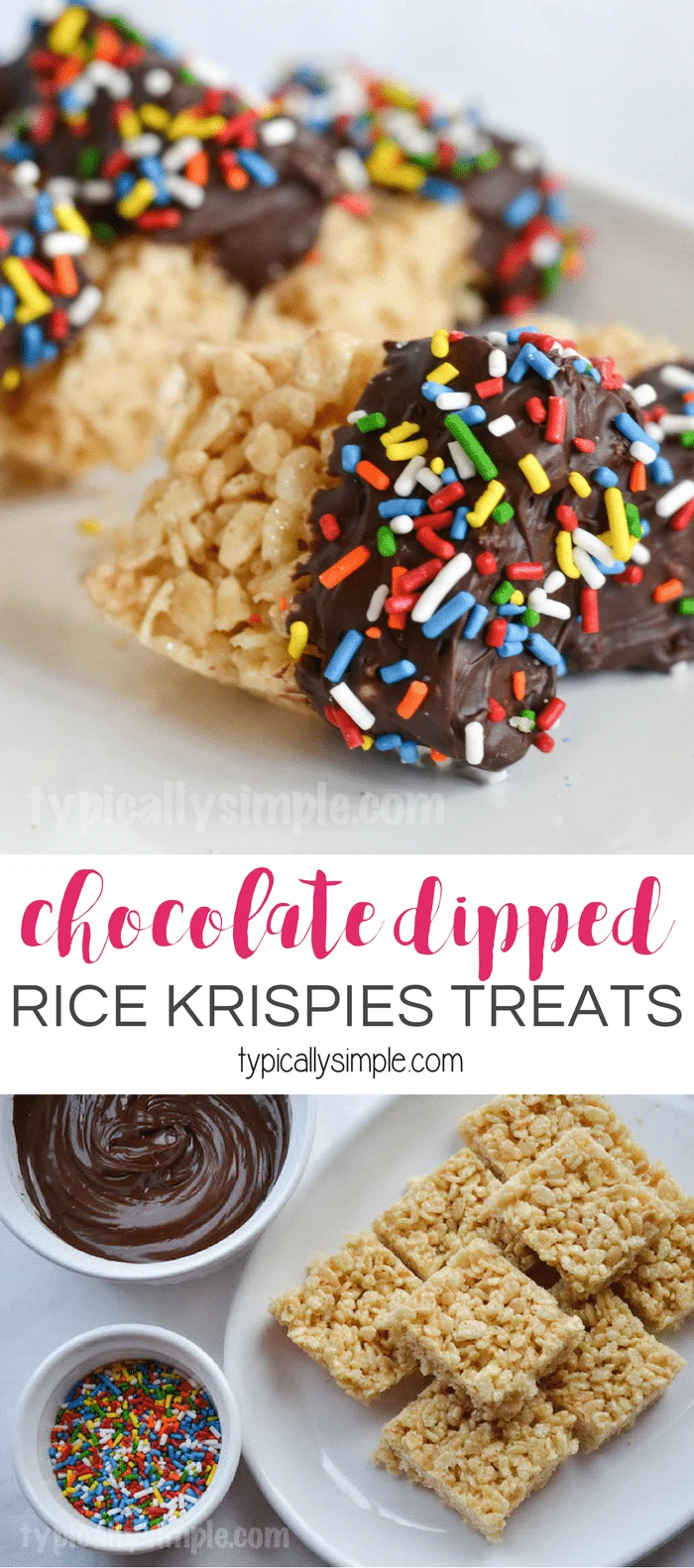 Looking for even more yummy recipes?
These white chocolate pretzel bites are the perfect combination of sweet and salty!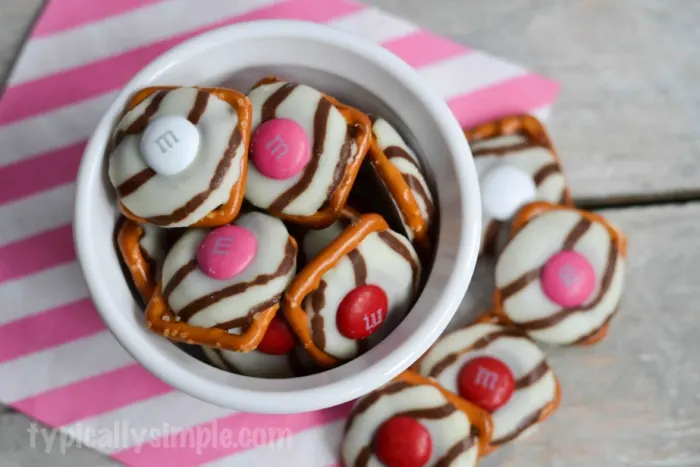 Sprinkles are like the glitter of the baking world and I love adding them to basic recipes like these blueberry pancakes!