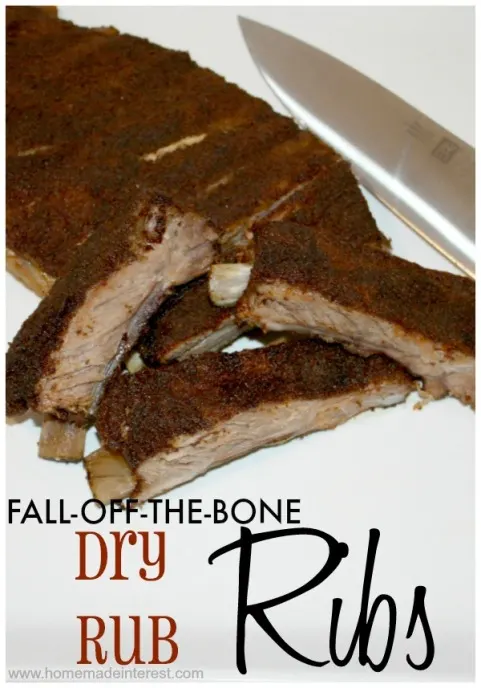 Kat from Home. Made. Interest. here, and today I'm sharing my recipe for Fall-Off-The-Bone Dry Rub Ribs. Say that 3 times fast!
I'm originally from Memphis, TN, so I've been eating ribs since I was little. Being a Memphis girl at heart, I don't cover my ribs in a bunch of messy sauce – I use a dry rub to give my ribs their flavor.
My rub recipe differs slightly from more traditional Memphis dry rub recipes because I don't add sugar. I eat low carb all of the time so sugar is something I avoid. But if you like a little sweet taste on your ribs, just add a little brown sugar to the recipe below and you'll be set. Either way, you're going to love it!
Fall-Off-The-Bone Dry Rub Ribs Recipe
Time: 15 mins prep time, 3-4 hour cook time
Ingredients:
2 racks St. Louis Style pork spareribs
4 T Chili Powder
2 T Cumin
1 T Garlic Powder
1 T Onion Powder
1 T Cayenne Pepper
1 T Black Pepper
Preparation
Preheat oven to 300 °F
Combine dry ingredients in a bowl and sit to the side
Prepare the ribs by removing the silver-skin from the back of each rack of ribs
Rub the dry rub mix on the top and bottom on the ribs making a nice crust
Place the ribs on a pan and cover them in foil before placing in the oven for 3 hours
After 3 hours check ribs for doneness, the meat should pull apart easily with a fork
If done, remove foil and put back in the oven for another 30-40 minutes
Take ribs out of the oven and let rest for 15 minutes
Cut ribs and serve
First thing you have to do when making ribs is remove the silver-skin. The silver-skin is the thin membrane on the back of the ribs. Flip them over and use a knife to get started.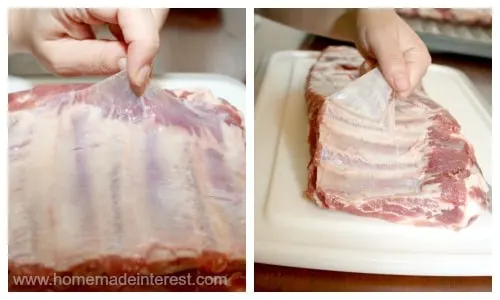 If you're good, or just lucky, you'll be able to pull the membrane off in one sheet by pulling it away from the meat. I'm not usually that lucky, so if I don't get it all in one pull, I just lift it again and use my knife to help me separate it from the meat.
Once that is done sprinkle the rub on the back the ribs and rub it in, then flip the rack over so the top side is up and cover that in the rub mixture. I like to put it on nice and thick.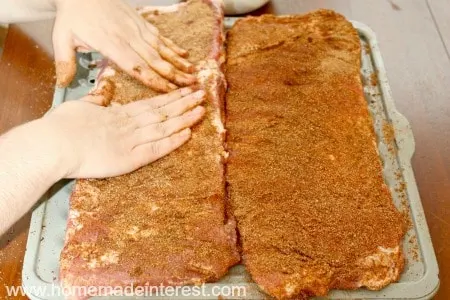 When you've covered the rack in rub mix you can go ahead and put them in a pan, cover them in foil, and put them in a 300 °F oven for 3 hours. After 3 hours, take the foil off and check to see how tender the meat is. It should pull apart easily with a fork. Leave the foil off and put the ribs back in the oven for another 30-40 minutes.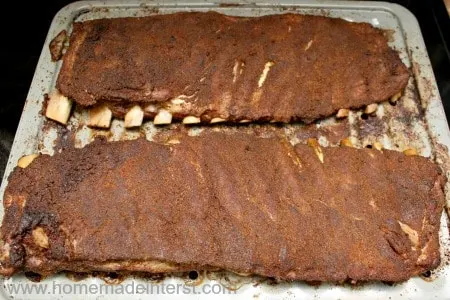 When they are done pull them out and let them rest for 15 minutes or so then slice them up and dig in!