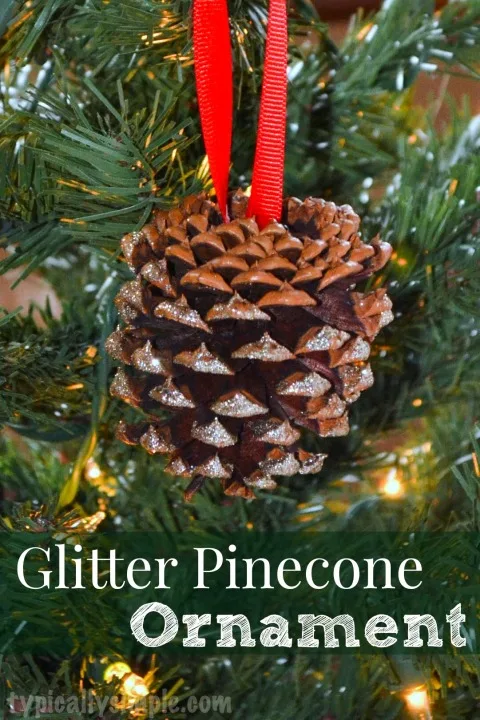 Walking into the store the other day, I caught a big whiff of cinnamon. The smell of cinnamon is one of my favorite things about the holidays. And the store had just put out the big bags of cinnamon scented pinecones, so I knew I had to grab some to use as Christmas decor this year.
We have a fake tree, so I thought it would be fun to decorate it with a few of the cinnamon scented pinecones so our house would smell delicious for Christmas. Simple crafts are my favorite and this one is no different!
Supplies
pinecones
glue
glitter
foam paintbrush
hot glue gun
ribbon
All you need to do is brush on some glue to the tips of the pinecone, sprinkle on the glitter, let it dry, and hot glue on the ribbon for a hanger. That's it!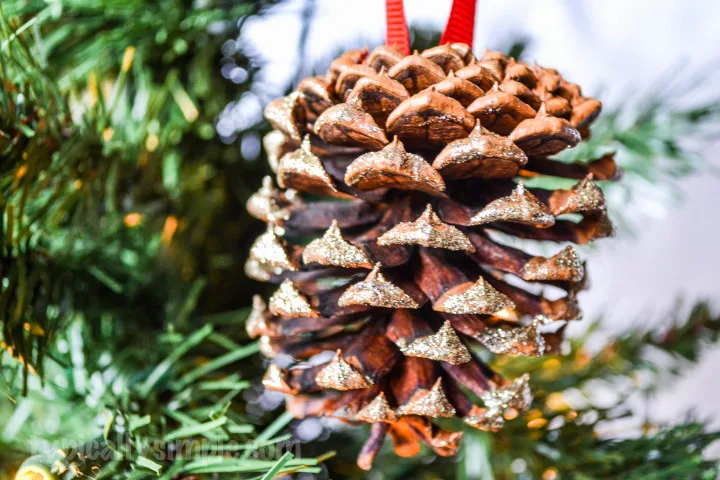 This would make such a great kids craft…a little messy, but I'm sure they would love to pick out the glitter and ribbon colors.
And if you need even more holiday decor ideas, over 35 of your favorite bloggers have come together to share their fun and festive ideas.
From ornaments to tree skirts, you are sure to be inspired by all of these amazing homemade ideas to help you trim the tree! Just click the links below to hop on over to their blogs and read all about their projects!

1. Advent Calendar Pocket 2. Polymer Clay Poinsettia 3. Yarn Wrapped Ornament
4. Vintage Green Paper Ornament 5. Trim the Tree Garland 6. Ribbon Stuffed Ornaments
7. Wooden Star Ornament 8. Melted Snowman Ornament 9. Felt Christmas Tree
10. Santa Star Ornament
1. Vintage Map Ornament 2. Yarn Joy Ornament 3. Embossed Wood Bird Ornament
4. Snow Man Wood Slice Ornament 5. Christmas Garland 6. Tree Skirt for under $20 7. Star Painted Ornament 8. Neon Christmas Tree Topper
9. Wooden Spool Christmas Tree
1. Gingerbread Cookie Ornament 2. Wood Etched Cork Garland
3. Bow Christmas Tree Garland 4. Travel Map Ornaments 5. Homemade Glitter Ornaments 6. Felt Candy Ornaments 7. Make Love Ornament
8. How to Decorate your Tree like a Pro 9. Joy Ornament 10. Glitter Pinecone Ornament
1. Scented Gingerbread Ornament 2. Diy Tree Skirt 3. Pinecone Decorative Tree
4. Wood Slice Ornament 5. Wood Slice Child Silhouette Ornament 6. Tips for Decorating the Christmas Tree 7. Mason Jar Lid Ornament 8. Gold Basket Weave Ornament 9. Rustic Christmas Tree Garland 10. Starfish Christmas Ornaments