A delicious round-up of twenty recipes filled with sprinkles! From cookies and cupcakes to popcorn and pancakes, these sprinkles recipes are fun to make!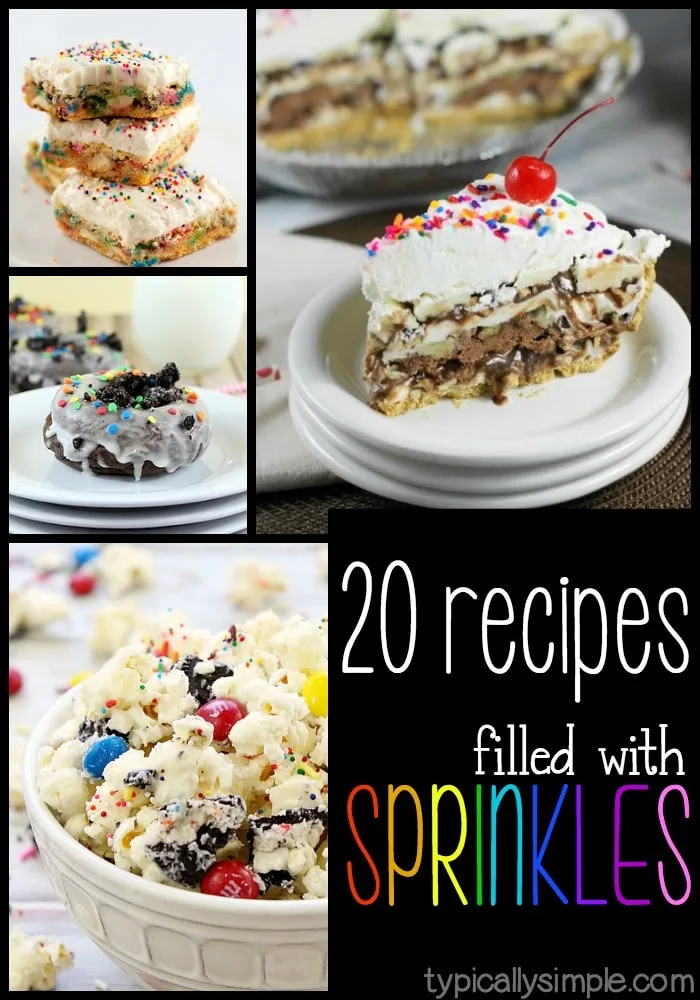 Sprinkles. They are kind of like the glitter of the baking world. Except they don't leave a trail of sparkles through your house. But they do make everything a little bit better! There's just something about a funfetti cupcake that makes me smile.
And with sprinkles coming in so many different colors, sizes, and even shapes, they are the perfect extra ingredient for baking. I also love to give a few shakes of sprinkles over our bowls of ice cream…okay, maybe a lot of shakes! 😉
So I rounded up twenty delicious recipes that are filled with sprinkles. I definitely want to try out the popcorn mix – I love all things popcorn and especially sweet and salty treats. There are also lots of great cupcake recipes that would be great for birthday parties or a fun afternoon treat for the kiddos!
Blueberry Pancakes with Sprinkles | Typically Simple
Frosted Rice Krispie Treats | One Creative Mommy
Cake Batter Chocolate Chip Cookies | Baking Beauty
Frozen 7 Layer Banana Split Pie | The Kitchen is My Playground
Chocolate Oreo Sprinkle Donuts | Love Bakes Good Cakes
Chocolate Dipped Wafer Cookies | Flour On My Face
Spring Meringue | Mess for Less
Funfetti Cake Bars | Baking Beauty
Pink Funfetti Pound Cake | The Kitchen is My Playground
Birthday Cake Popcorn Mix | Love Bakes Good Cakes
Funfetti Cake Batter Mix | Fantastical Sharing of Recipes
Confetti Coconut Cookie Sandwich | How to Have it All
Hot Fudge Cupcakes | Slap Dash Mom
Sprinkle Marshmallow Pops | Laura Kelly's Inklings
Frosted Sugar Cookie Bars | Amanda's Cookin
Chocolate Peanut Butter Clouds | Celeb Baby Laundry
Vanilla Pudding Snow Cream | Laura Kelly's Inklings
Funfetti Cupcakes | Celeb Baby Laundry
Confetti Cookies | Grace and Good Eats
Chocolate Fudge Cake Pop | Stockpiling Moms
Which yummy recipe are you going to try first?