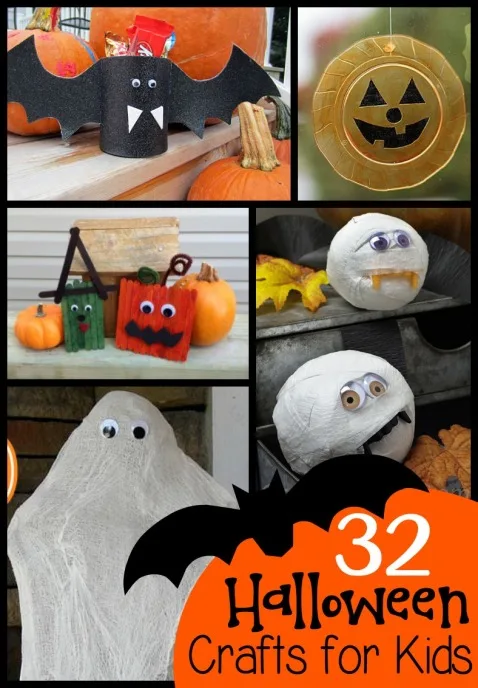 Halloween is one of my favorite holidays to get crafty for. From witches and ghosts to pumpkins and bats, there are so many different projects and decorations to be made!
When I was teaching in the classroom, we tried to get in a craft project every now and then and the kids absolutely loved the fun crafts planned for our Halloween party. Having the time limits we did, it was essential that the crafts were quick, easy, and simple, but they also had to have that wow factor to keep the interest of seven year olds.
I'm always on the lookout for fun kid crafts to file away until the little guy is old enough. Although I do have a fun "little toddler" project planned for him! So I rounded up thirty-two really cute Halloween crafts for kids.
Some are more on the simple side for the younger crafting crowd, but there a few that would definitely appeal to the older kids as well! And many include creepy crawlies which are perfect for boys!
Pumpkins
Tin Can Pumpkins
The Little Orange House – Pumpkin Activity
Tissue Paper Pumpkin
Decoupage Pumpkin Sun Catcher
Paint Chip Jack-O-Lanterns
Pumpkin Paperweights
Yarn Pumpkins
Pumpkin Magnets
Decoupage Pumpkin Treat Cup
Toilet Paper Roll Pumpkins
Ghosts
Egg Carton Tissue Paper Ghost
Styrofoam Cup Ghost
Cheesecloth Ghosts
Paper Plate Ghosts
Spiders
Craft Stick Spiderwebs
Handprint Spiders
Foam Spiders
Paper Plate Spider Web
Witches, Ghouls, and Mummies, oh my!
Cardboard Tube Ghouls
Haunted House Printable
Popsicle Stick Witches
Crepe Paper Mummies
Build a Skeleton
Creepy Crawlies
Skull and Spider Wreath
Homemade Slime
Batty Party Favors
Creepy Crawly Wreath
Halloween Eyeball Rings
Glow in the Dark
Glow in the Dark Bat Mobile
Glow in the Dark Spider Web Window Clings
Boo! It's Halloween!
Tissue Paper Candy Corn
Halloween Mason Jar Toppers
Halloween Bubble Wrap Stamps
Candy Corn Bowling