These five turkey crafts are so fun to make using some paint and a few items you can probably find around the house. Each painting technique creates a unique and colorful turkey craft project that you can make with the kids for Thanksgiving!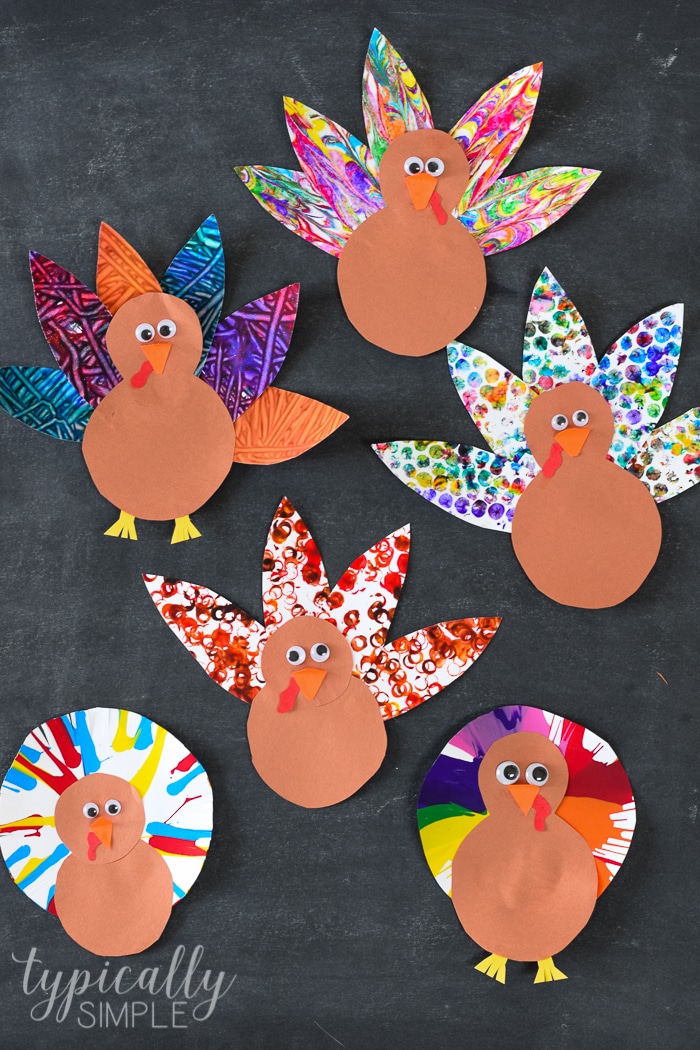 We love to try out different painting techniques using things we find around the house. These turkey craft projects were perfect for trying out some of our favorites like marble painting and spinner art.
One thing that I love about these projects is that it's all about the process, not the final product. Although, I must say, these turkeys turned out so colorful and cute!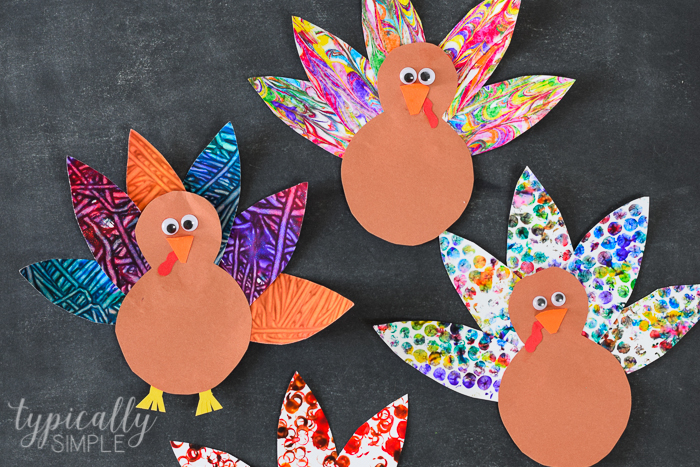 Depending on how much time you have to make these, you can try out just one painting technique, or all five! We made these over two days. The first day, we tried out all of the different painting techniques and made lots of different prints in a variety of colors. We let them dry overnight…because when you are painting with kids, the paper usually ends up with more paint on it than planned.
On the second day, we cut out the turkey parts from construction paper. Then we used our different prints to cut out all of the feathers and attached those to the turkey bodies.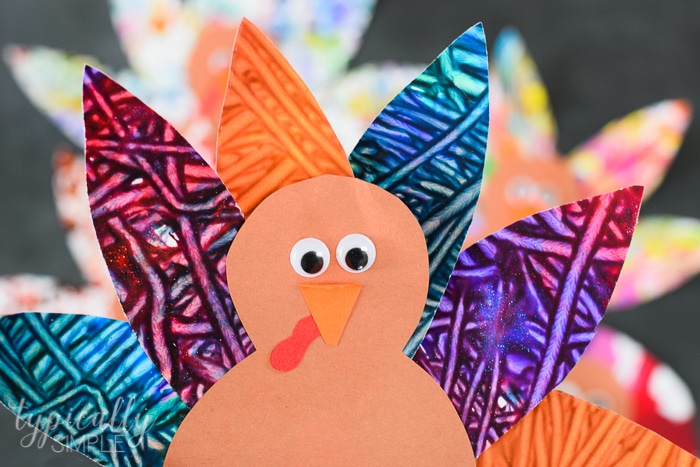 Turkey CraftS Painting Techniques How-To
Each painting technique creates a unique look for the turkey feathers. Use one, two, or all five to create your turkey feathers. You could also mix and match to create extra colorful turkeys with lots of texture!
Supplies Needed for Turkey CraftS
Here's a supply list for everything needed if you plan to make all five turkey crafts. If you only want to make specific ones, you will need the supplies below that are bold, plus the supplies listed under the specific painting technique further down in this post.
The following are affiliate links. As an Amazon Associate I earn from qualifying purchases.
construction paper
scissors
glue
googly eyes
pencil or marker
paint brushes
marbles
cookie sheet or shallow plastic bin
shaving cream
scraper tool
bubble wrap
Duplo Blocks
paper plate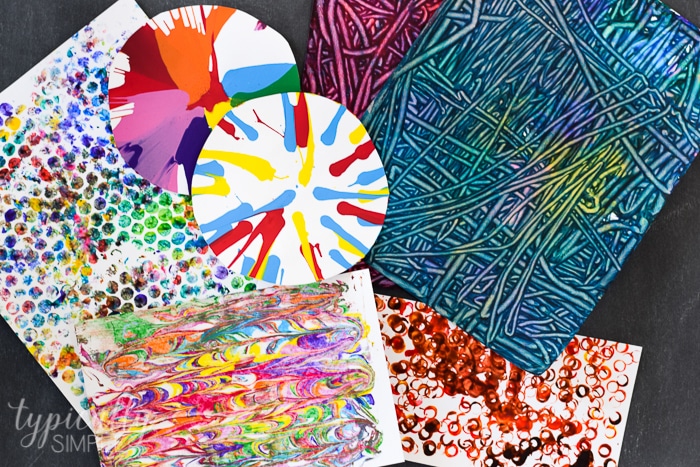 Directions for Painting Techniques
Since most of these techniques use the same supplies, we had a lot of fun trying all five out in one craft session. But if you don't have a certain supply, or you want to make this with a class of students, all of these are fun to do on their own to create some colorful turkeys!
MARBLE PAINTING
Extra Supplies Needed: Marbles, shallow bin or box lid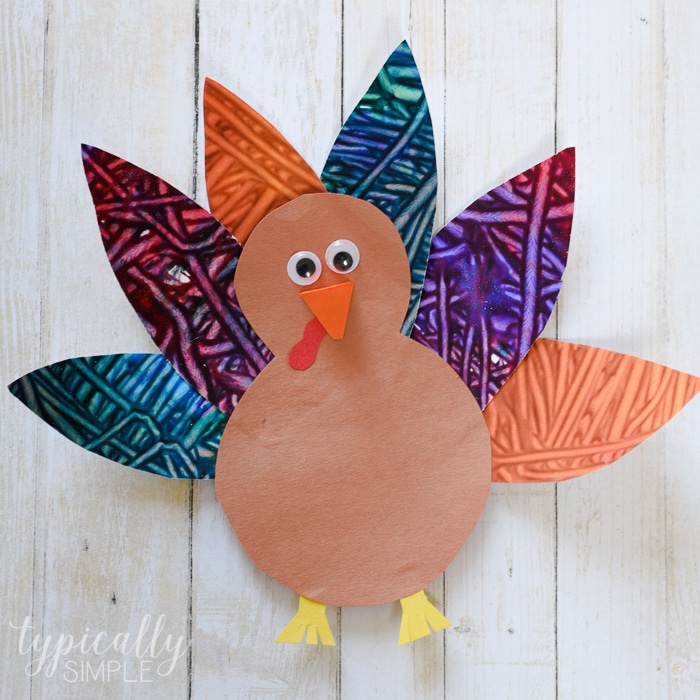 Using a box lid or shallow bin, tape a piece of card stock to the bottom.
Add some blobs of paint to the paper.
Put a few marbles into the bin.
Shake and move the bin to get the marbles to roll around through the paint and across the paper.
BUBBLE WRAP
Extra Supplies Needed: bubble wrap, paint brush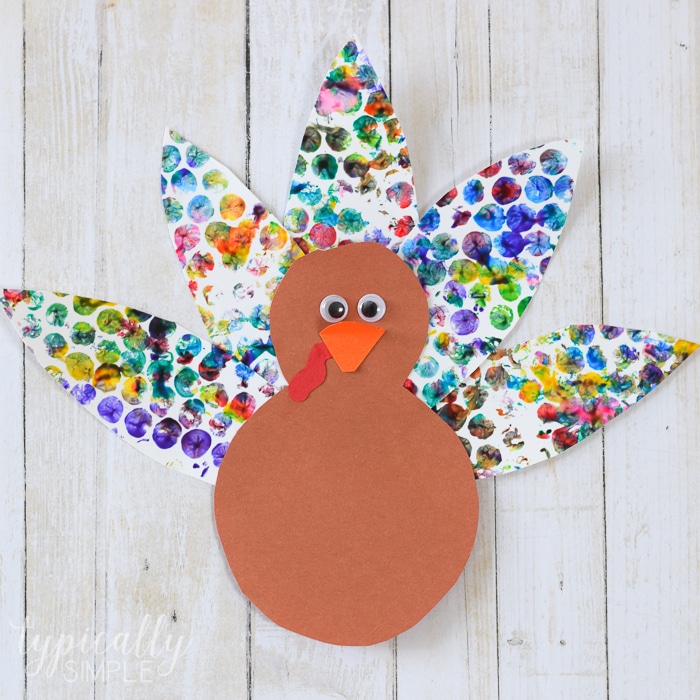 Cut bubble wrap into small pieces.
Paint the bumpy, bubble side.
Turn over and press onto card stock like a stamp.
Repeat until paper is filled with the print.
This is a fun one for all ages! We loved making Bubble Wrap Apples with this technique. It's super simple and needs just a few supplies that we usually have already in the house.
MARBLED PAPER
Extra Supplies Needed: shaving cream, cookie sheet, paint brush, scraper tool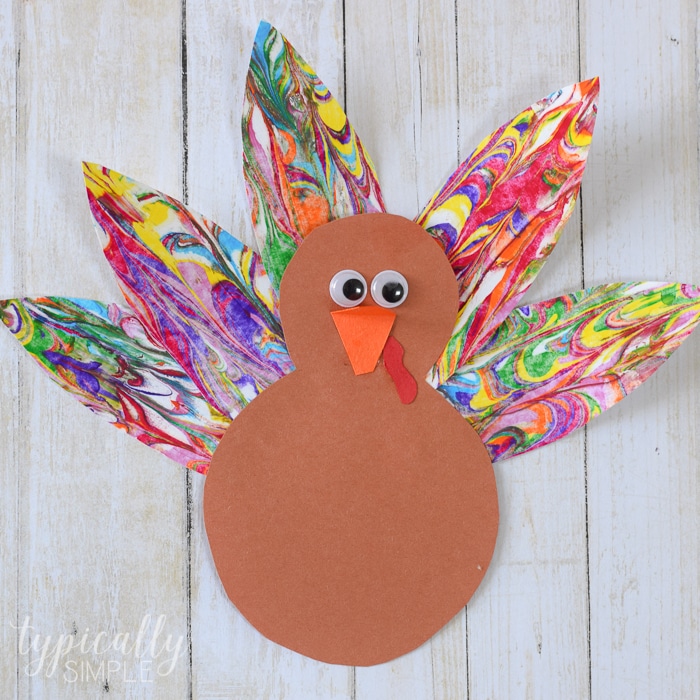 This technique was a huge hit when it came to these turkey crafts! The colors turned out so vibrant and it's not every day that we paint with shaving cream. Read the full tutorial for shaving cream marble paper, but here's the gist to get you started!
Spray and smooth out shaving cream on a cookie sheet.
Add blobs and lines of paint on top of shaving cream.
Using the pointy end of a paint brush, drag it through the paint and shaving cream to create a marbled look.
Place a piece of card stock on top of the mixture, press down gently and pull it up.
Scrape excess shaving cream off the paper and let dry.
DUPLO PRINT
Extra Supplies Needed: DUPLO blocks, paper plate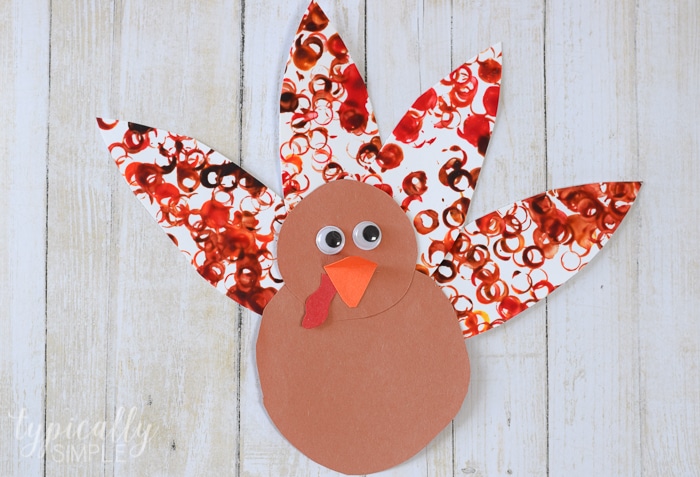 Pour different colors of paint onto a paper plate.
Dip the raised side of a DUPLO block into the paint.
Use the DUPLO as a stamp to create a pattern all over the paper.
SPINNER ART
Extra Supplies Needed: salad spinner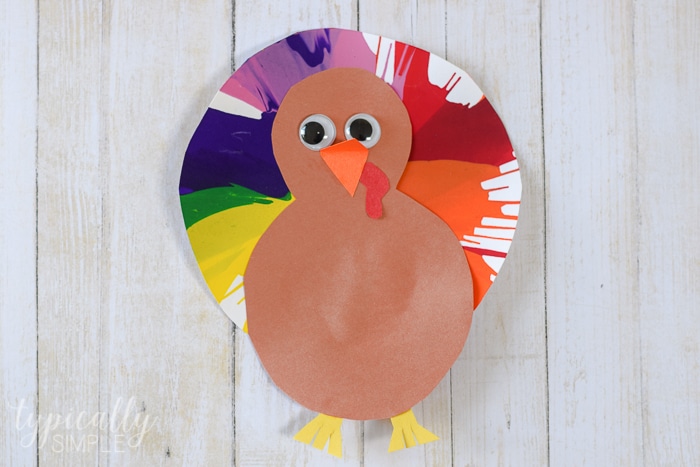 Creating spinner art is one of our new favorite projects. We made some really cool spiderwebs for Halloween, so I knew we had to give it a try with turkeys!
Cut out circles from the white paper that will fit inside the salad spinner.
Place the paper in the salad spinner, add paint.
Spin to create the colorful turkey feathers.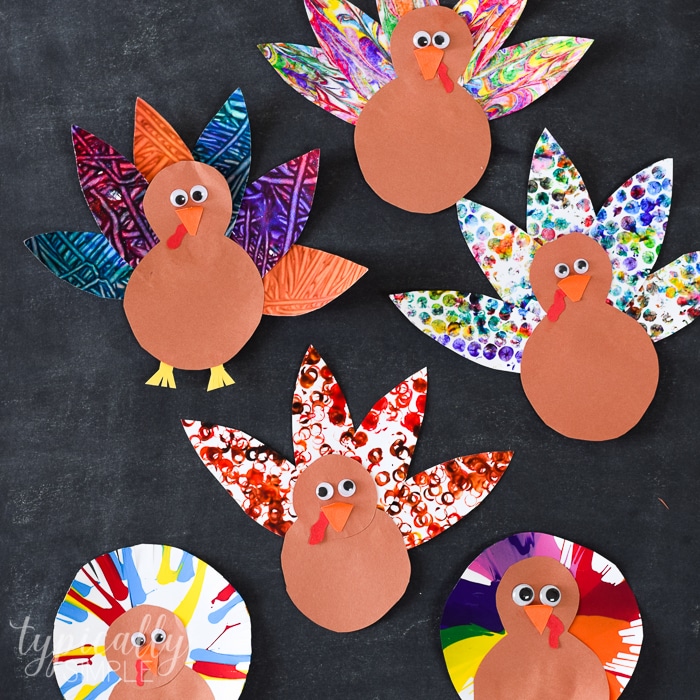 And there you have it, five colorful turkey crafts that the kids will love to make for Thanksgiving. I can't wait to string these cute little turkeys together to create a banner for our mantel!