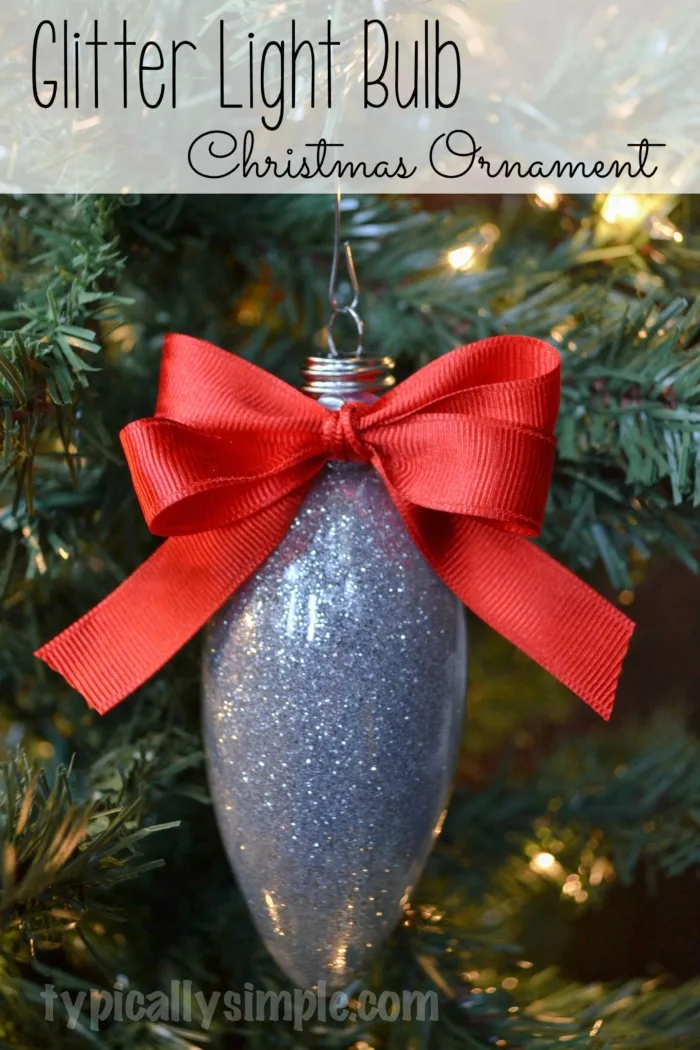 Besides all the delicious holiday baking, one of my favorite Christmas traditions is making ornaments! I always remember making ornaments in grade school…I'm sure you made similar ornaments…the ones with our school picture glued to a baby food jar lid and decorated with glitter and tissue paper.
So I thought it would be fun to host a 12 Days of Simple Christmas Ornaments series and share twelve ornaments that are simple to make. There will also be a few that would be perfect for the kiddos to make for relatives!
And since everything is better with glitter, I'm sharing a fun glitter Christmas light bulb ornament today! I found these ornaments at Hobby Lobby – they came in a pack of four and thought they would look cute full of glitter.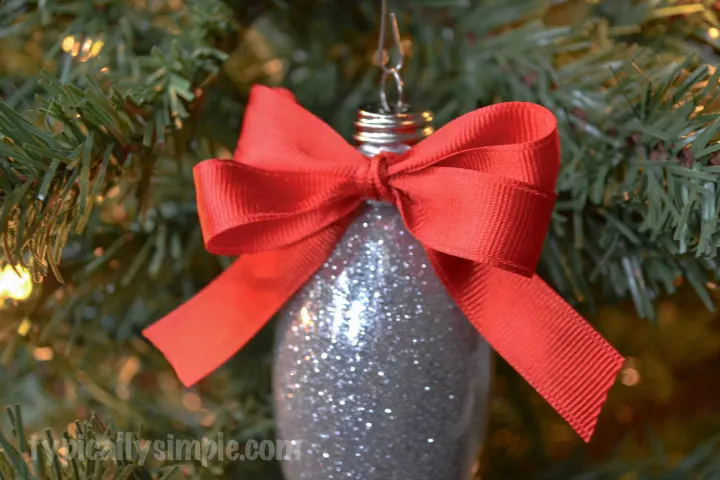 There are so many tutorials out there on how to glitter the inside of your ornament. But my tried and true method is using hair spray. I pour a little in, swirl it around to coat all the sides, and pour out the extra. Using a little funnel, I dump in a bunch of glitter, shake it up (yeah, yeah, shake it up!) pour out the extra and let it dry!
After putting the top metal clip back into the ornament, I tied up a some ribbon into a double bow and hot glued it onto the metal part of the ornament. These would be fun to personalize with vinyl, maybe the year or a last name.
12 Days of Simple Christmas Ornaments
Day 1: Glitter Light Bulb
Day 2: Scrabble Tile Ornament
Day 3: Snow Globe Floating Ornament
Day 4: Ribbon Wreath
Day 5: Ribbon Tree
Day 6: Glitter Monogram
Day 7: Salt Dough Ornament
Day 8: Snowman Ornament
Day 9: Glitter & Snowflake Ornament
Day 10: Gingerbread Ornament
Day 11: Curled Paper Strips Ornament
Day 12: Bottle Cap Ornament